% include 'bold-product' with product, hide_action: 'break' %}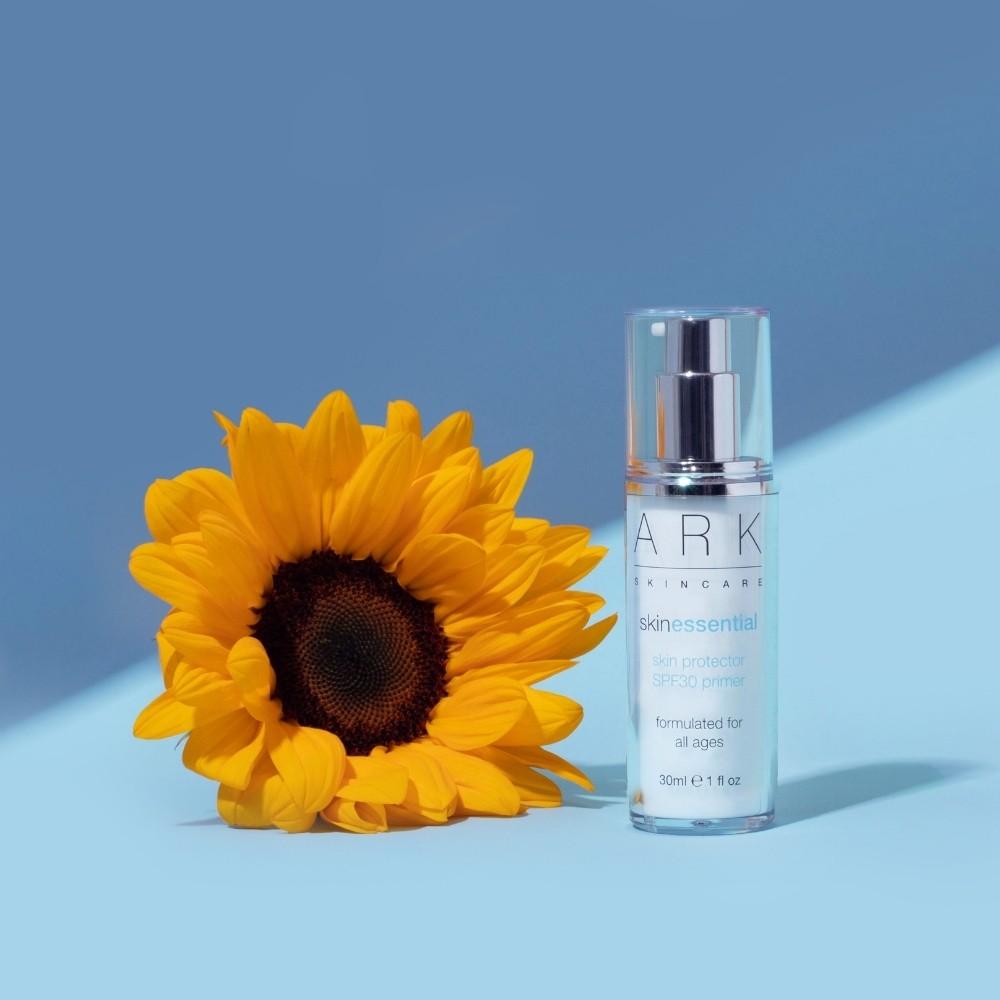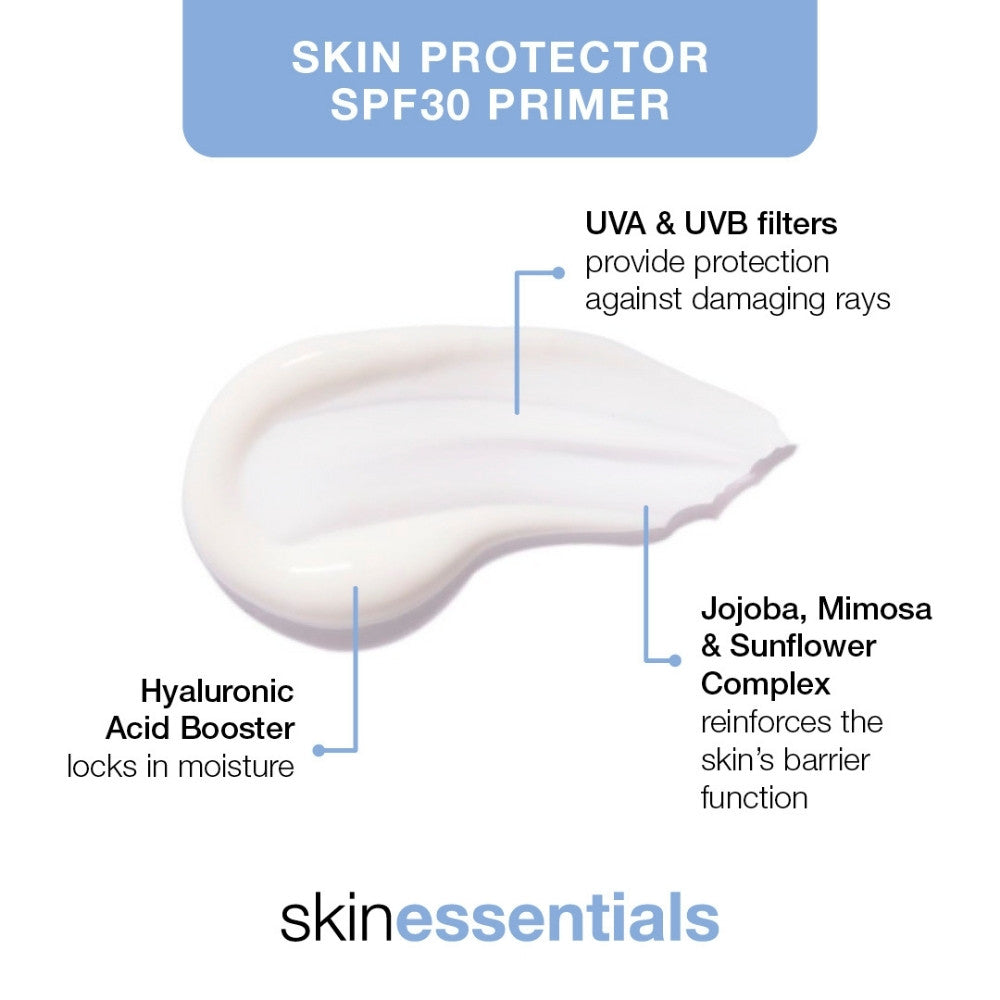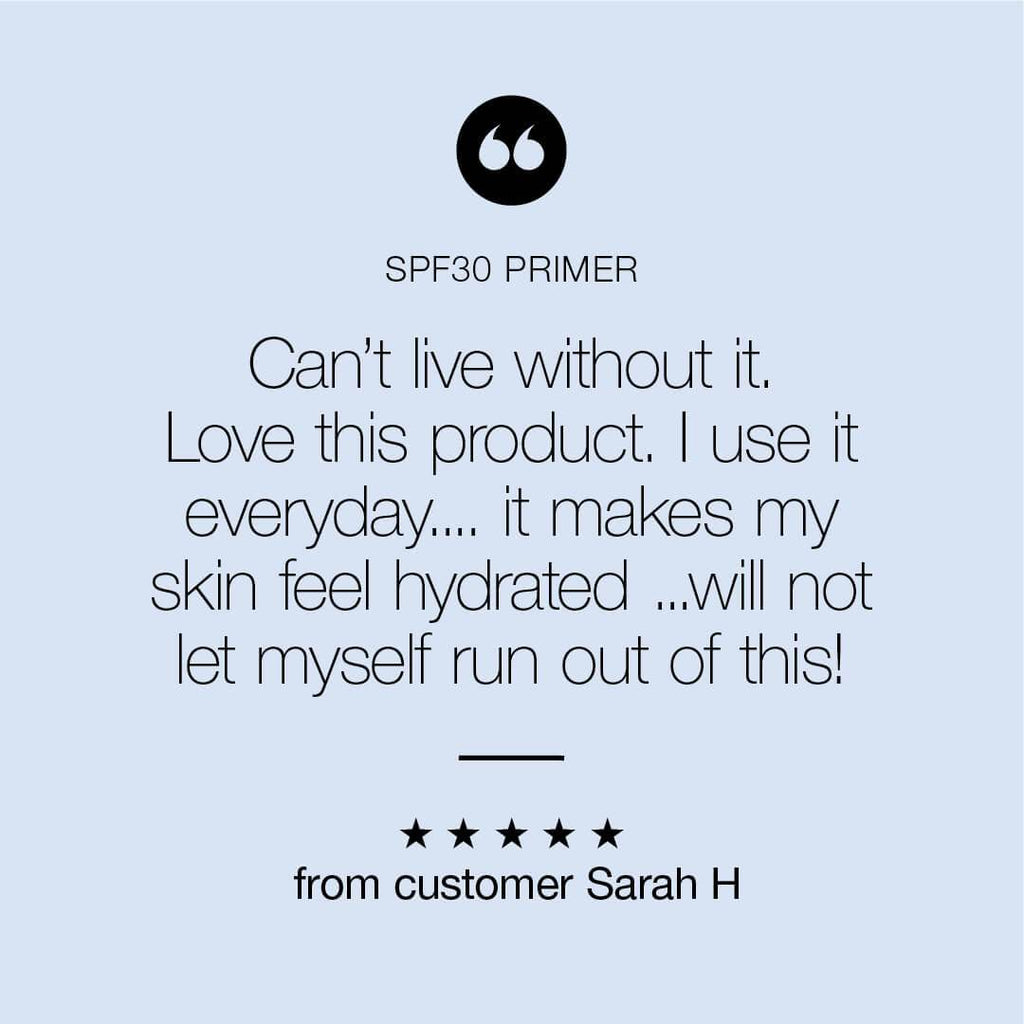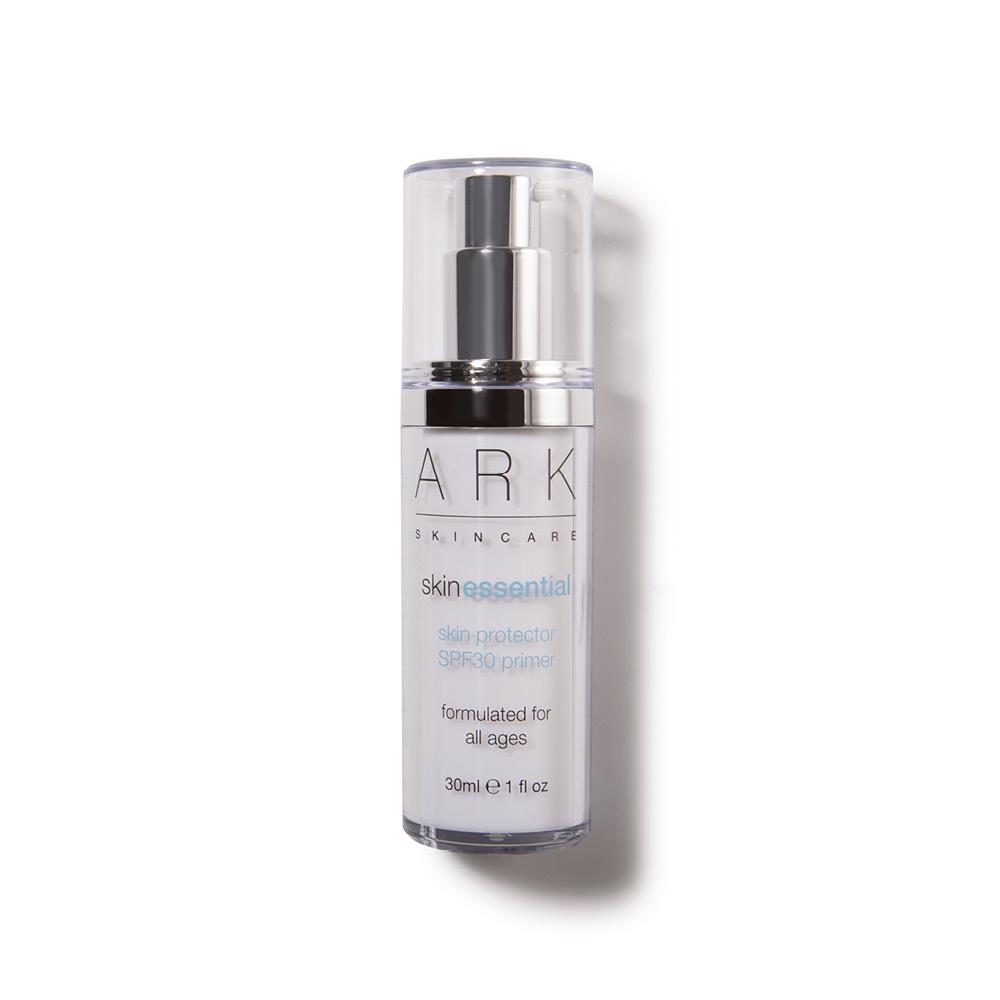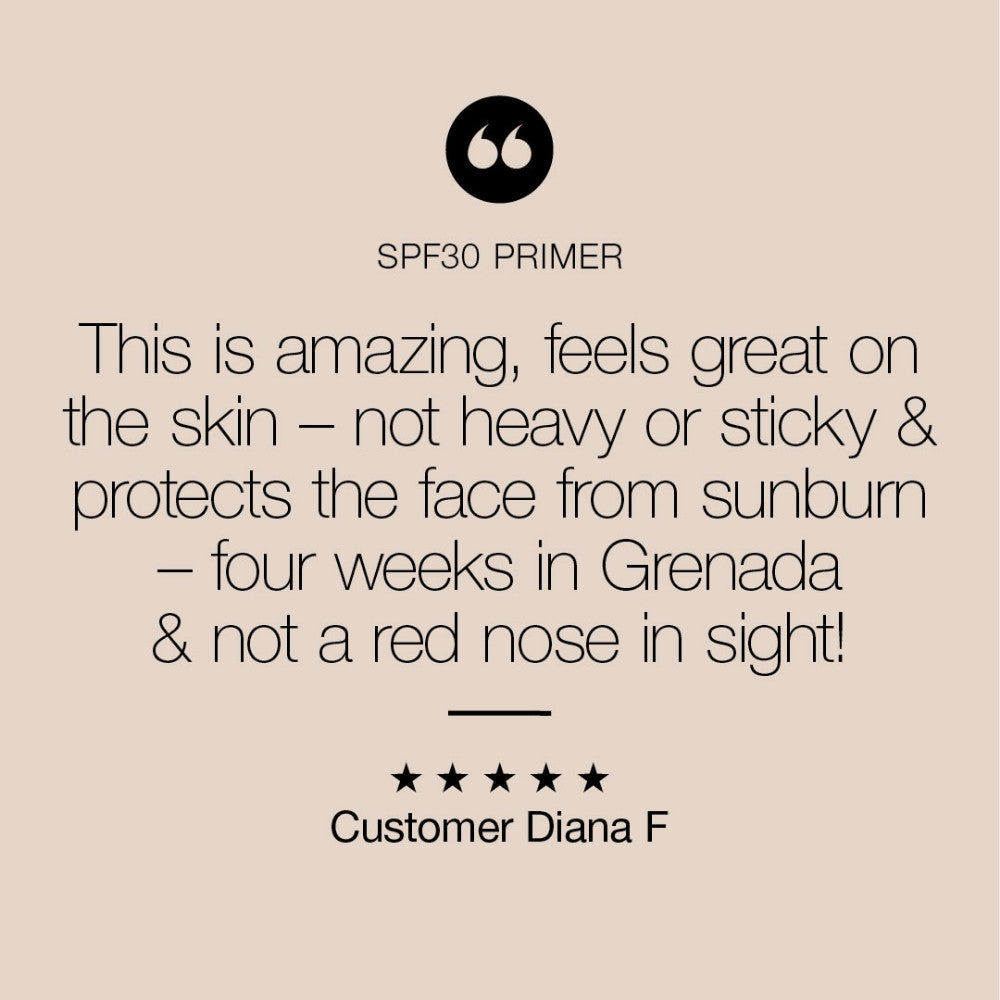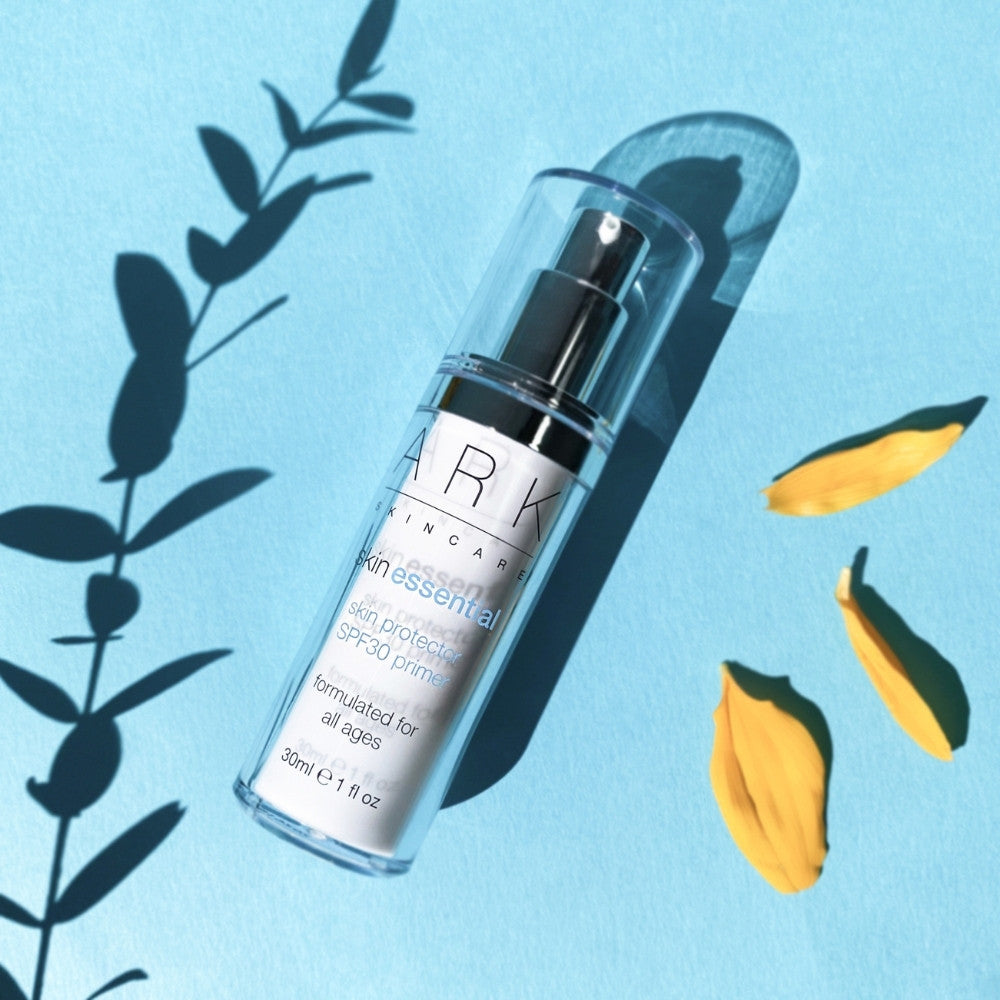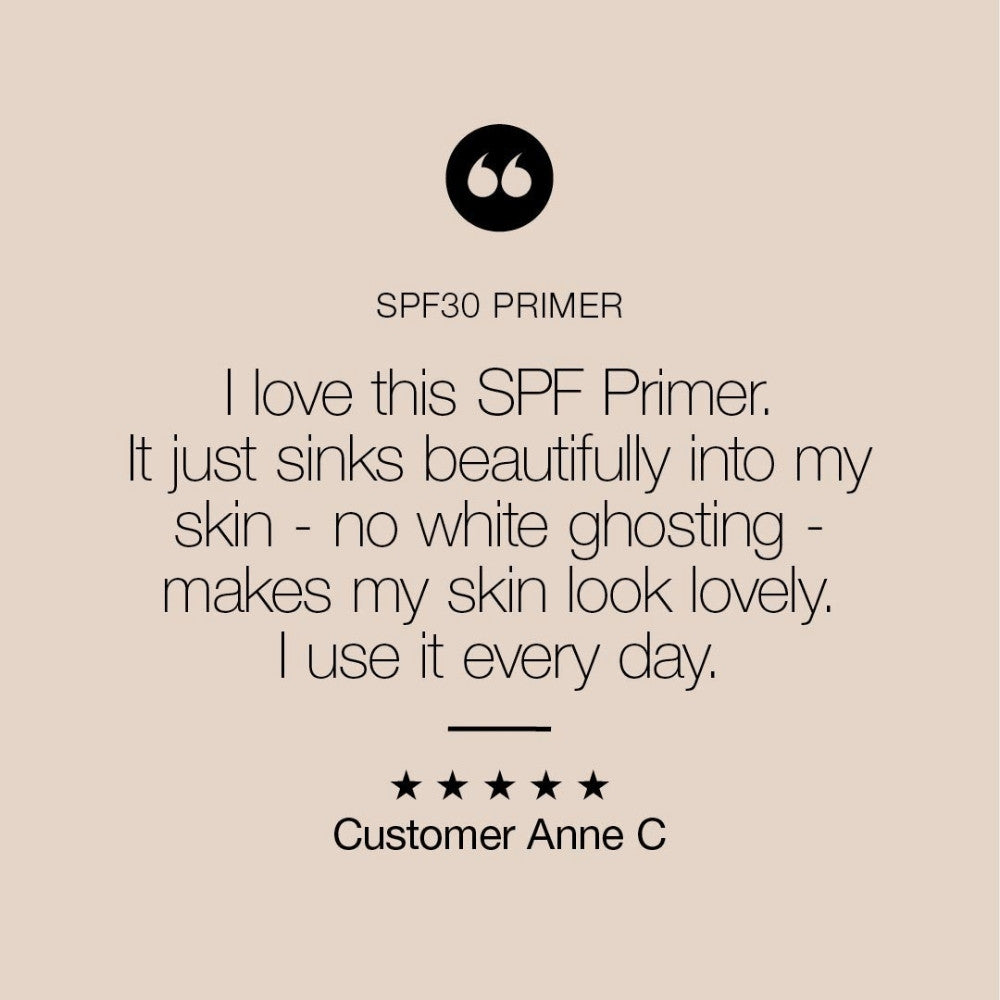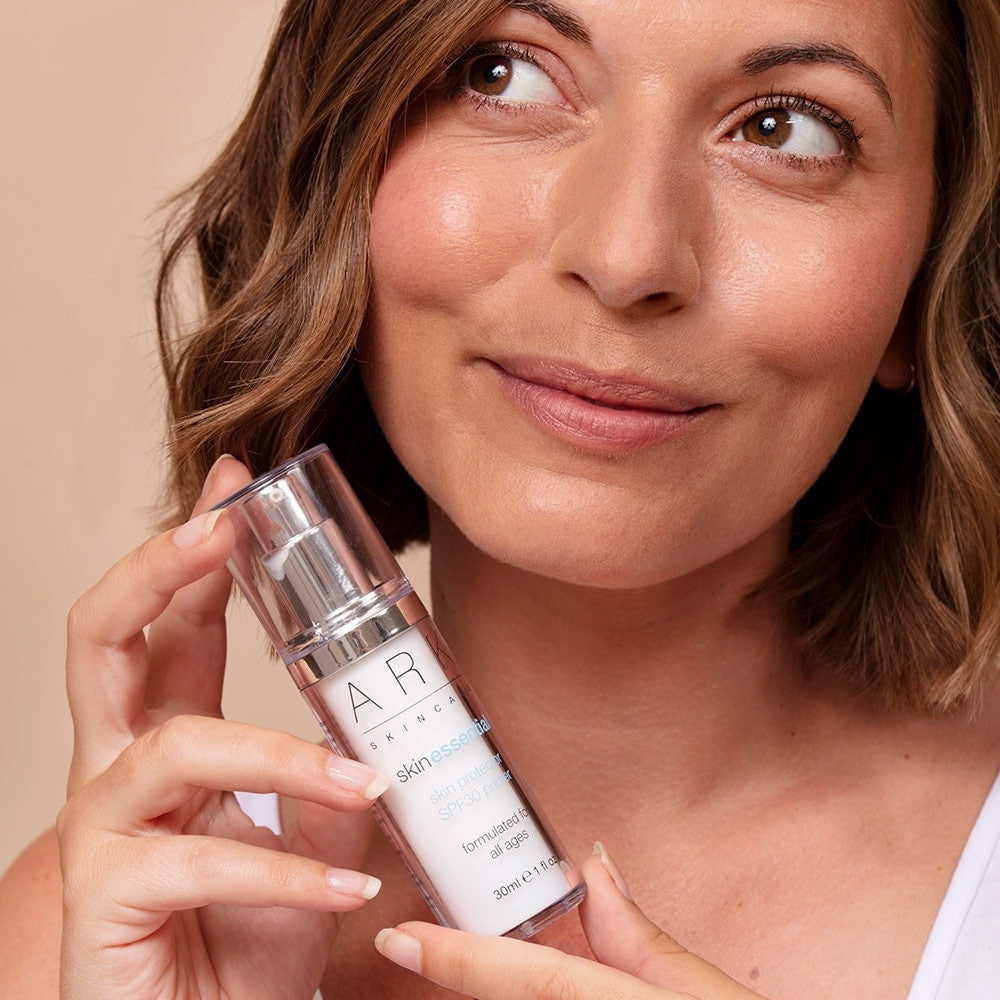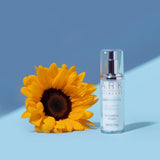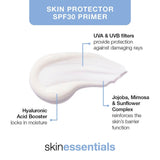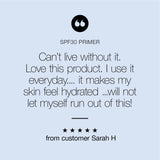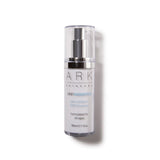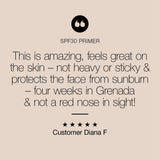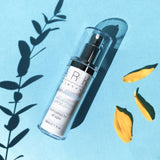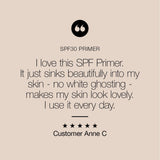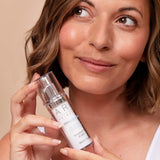 Skin Protector SPF 30 Primer 30ml
SPF, primer & moisturiser in one
Share
Available in 2 sizes - Click HERE to view our 75ml option.
A multitasking three in one essential skincare product which acts as a daily moisturiser, a facial sunscreen, and a make up primer. This hydrating formulation provides broad spectrum SPF30 protection against damaging UVA and UVB rays and delivers an advanced active antioxidant system to protect against premature ageing. Active ingredients offer an instant soft focus finish to the skin making it the perfect moisturising primer on which make up can glide. Helps make up last all day long.

Results: This moisturising primer not only ensures skin is hydrated, it also helps boost the skin's natural barrier function. Skin is left feeling silky smooth with a luminous, soft-focus velvet finish. Skin is protected against the signs of premature ageing with a broad spectrum SPF30 and advanced active antioxidant system and primed ready for make up if required.
How it works:
A blend of UVA and UVB filters offers broad spectrum SPF30 protection against damaging UV rays

Hyaluronic Acid Booster limits water loss through the skin's barrier maintaining hydration levels

Vitamin E, and Shea Butter moisturise, protect and soothe

A complex of Jojoba, Mimosa and Sunflower reinforces the skin's barrier function
Perfect for: Everyone. Can be used alone or under make up. Use as a daily moisturiser, a daily sunscreen and/or a make up primer. Dermatologically tested and approved for those with sensitive skin. Non-comedogenic (non pore clogging). 100% vegan.
How to use: Smooth over face and neck in the morning after cleansing, or for added hydration use after you have applied your age intelligent moisturiser.
Read our expert guide: You can find more information on protecting your skin from sun damage by taking a look at our Ultimate SPF Skincare Guide HERE.
Have you seen we've launched a Super-Sized version of this bestselling product? The new size gives you a great discount, and it has reduced plastic packaging - win win! CLICK HERE TO VIEW
Bio active ingredients: Shea Butter, Vitamin E, Hydracire (blend of Jojoba, Mimosa and Sunflower), Hyaluronic Acid Booster.
Full ingredient list: Aqua (Water), Octocrylene, Ethylhexyl Methoxycinnamate, Benzophenone-3, Butyl Methoxydibenzoylmethane, Acacia Decurrens/Jojoba/Sunflower Seed Cera/Polyglyceryl-3 Esters, Dimethicone, Cyclopentasiloxane, Xylitylglucoside, Tapioca Starch, Caprylic/Capric Triglyceride, Stearic Acid, Glycerin, Butylene Glycol, Ethylbisiminomethylguaiacol Manganese Chloride, Glyceryl Stearate Se, Phenoxyethanol, Anhydroxylitol, Polysilicone-11, Tocopheryl Acetate, Benzyl Alcohol, Xylitol, Sodium Stearoyl Glutamate, Xanthan Gum, Butyrospermum Parkii (Shea) Butter, Disodium Edta, Ethylhexylglycerin, Polyacrylamide, Parfum (Fragrance), Limonene, Sodium Stearate, C13-14 Isoparaffin, Dehydroacetic Acid, Polymethylsilsesquioxane, Geraniol, Linalool, Laureth-7, Citral
Formulated without: Parabens, Sulphates, SLS, Mineral Oil, S.D. Alcohol, Formaldehyde, Artificial Colours & Artificial Fragrances.
Our top selling hero product which consistently wins industry awards and achieves rave reviews:
2020 - "This super lightweight primer has become my go-to as soon as I began using it. It's especially great now as the temperature outdoors is rising as it's not at all sticky and sinks into the skin almost instantly." - Glass of Class, Beauty Blogger
2020 - "This went onto the skin beautifully and was super easily absorbed. I had been searching for a new daily SPF product for months and this is literally exactly what I wanted to add to my skincare routine, as I know it's protecting my skin from any harmful UVA and UVB rays, maintaining its youthfulness and overall health as well. "The "airbrush" finish allows makeup to glide on effortlessly and last all day long." Coconut Couture, Lifestyle Blogger 2020
2020 - "This was a game changer for me when I was introduced to it earlier this year; incredibly lightweight, not at all greasy and suitable for any age, this doubles up as a moisturiser and primer too. This is one that's worthy of the hype. I'm down to the dregs of this and will definitely be replacing it; the ultimate lightweight SPF." Beauty Blogger, Hayley Hall UK
2020 - "This has been part of my everyday routine for a good few months now and I absolutely love it. The formula makes it easy to love, it isn't as heavy as a cream but it does have a slightly thicker texture than your average serum and when applied to the skin, it feels weightless but is quite refreshing." Beauty Queen UK, Beauty Blogger
2020 - "ARK Skincare is a brand that I have been exploring recently and I am so impressed with it… Once you have used the Skin Protector SPF30 Primer, there's no going back. Skin has a healthy glow, makeup glides on effortlessly and the effect lasts all day. I would recommend topping up your SPF during the day if you are out in strong sunlight. Already a multi-award winning product, this primer is loved by beauty editors and customers alike." Fighting Fifty, Beauty Blogger
2019 - Winner of Best Daily Use SPF Product - Beauty Shortlist Awards
2019 - "What I love about this primer is that it's super light and doesn't give your skin a white cast like other products that contain SPF do. It's easy to blend in and leaves my skin looking slightly dewy and healthy. It doesn't add any excess shine but a subtle glow and I often reach for it on no makeup days too. If you're guilty of skipping sun protection, then this is the product for you. It's a fuss-free way of protecting your skin whilst giving it an added boost of hydration and creating a flawless base to seamlessly blend your foundation on top of." - 'The Beautiful Bluebird' Beauty & Lifestyle Blogger
2019 - "If you're looking for a natural, high end primer that is super multi-tasking ARK Skin Protector SPF 30 Primer is the one for you! This award-winning primer feels luxurious and is definitely a more refined, sophisticated formula ... My skin feels smoother, brighter and hydrated after applying this primer SPF" - 'Aylined' Beauty & Lifestyle Blogger
2019 - "There are lots of reasons why I'm a fan. Firstly, it's lightweight and breathable. Post cleansing, toning & moisturising, it's not product overload. In fact, the Hyaluronic Acid booster it contains helps to hydrate my skin even further... It's so good to know my skin is being protected & prepped in such an effortless way. This is one product I would be hard pressed to be without now." - 'Living Pretty Happy' Beauty & Lifestyle Blogger
2019 - "This skin protecting primer SPF30 from Ark Skincare has been part of my everyday routine for a good few months now and I absolutely love it. The formula makes it easy to love, it isn't as heavy as a cream but it does have a slightly thicker texture than your average serum and when applied to the skin, it feels weightless but is quite refreshing." - Beauty Queen UK, Beauty Blogger
2019 - "This is great product, serving not just as a primer, but as a moisturiser and a sunscreen all in one. It provides the all important UVA and UVB protection against rays, as well as serving as an antioxidant system for everyday skin defense. This is such a great all round product" - Loved by Elena, Beauty
2019 - "I was wearing this during the recent hot spell and my face didn't suffer in the sun at all...It's also very moisturising and gives quite a glowy finish, to the point where you can get away without using a separate moisturiser. I took it on a weekend away and it was very handy to only have to pack one product instead of three." -Opposable Thumbs, Beauty Blogger
2019 - "What I also love is that the SPF 30 Primer is that it can also be used as a primer before applying make-up. It can be used on its own as a moisturiser or on top of your moisturiser for extra protection. I love the fact that as it's a 30ml bottle that I can pop it in my bag when I travel hand luggage only." - From Fiona, Beauty Blogger
2017 - Winner of BEST PRIMER - Beauty Shortlist Awards
2017 - Top pick by Virgin Atlantic Crew : "I purchased the Skin Protector Primer, Radiance Serum and the Hydration Injection Masque. I absolutely love all three! I'm Cabin Crew for Virgin Atlantic and I am always aware of the effects that flying has on my skin. That and the fact that I'm not getting any younger! I will definitely be adding more of the ARK products to my skin care regime and will highly recommend them to anyone." - Claire Wing
2016 - Winner of the Best Time Saving / Multi Tasking Beauty Product - Beauty Shortlist Baby Awards
2016 - Chosen as the No. 1 Best Buy, Long Lasting Make Up Product - The Independent
2015 - Chosen as the No.1 Best Buy, Top 9 Facial Sunscreens - The Independent
2014 - Winner - Beauty Shortlist Awards
2013 - Winner - Pure Beauty Awards
Are you local to Haslemere?
Save on postage and place a telephone order on 02037403303, we'll prepare your order and let you know when it's ready to pick up from our shop on Haslemere high street.
Store open for collections Monday to Thursday 9am to 5pm. Open by appointment on Friday and Saturday. Confirmation of arrival time advised to avoid disappointment.
UK Deliveries
UK - Standard Delivery (3-5 working days) FREE for orders of £60 or over.
UK - Standard Delivery (3-5 working days) £3.95 for orders under £60.
UK - Next Working Day (UK Mainland) - Available Monday to Thursday, orders must be placed before 12 midday. Please note the Next Day service is not available for weekend deliveries. Therefore orders placed on Thursday afternoon or Friday mornings will arrive on the following Monday. Orders placed on Friday afternoon Saturday or Sunday will be delivered on the following Tuesday. £7
Overseas deliveries
PLEASE NOTE: We can not take any responsibility for delayed orders to other countries outside the UK due to individual custom regulations. Please check with your country's customs office regarding the import of the products you wish to order. ARK Health & Beauty (Retail) Ltd deliveries are classed as 'Delivered At Place' (DAP), also called delivered duty unpaid (DDU). This means we the seller take responsibility for shipping the product, but we require the customer to pay any import costs, such as VAT, duties, and clearing fees. As the buyer, you are responsible for any import restrictions, prohibited import items, taxes, tariffs, fees and other duties. You are responsible for complying with international, national or local laws regulating the importation of products that you may purchase. If an order is refused delivery by customs due to unauthorized ingredients or contents, ARK Health & Beauty (Retail) Ltd is not responsible for any losses or costs incurred by you, the customer. You are solely responsible for any taxes, duties, levies, fees and/or any other expenses related to importing the products you order. If the shipment is abandoned or discarded by customs, you will not receive a refund or credit of any kind. By ordering you agree to these terms.
Delivery to Europe
Unfortunately we've made the decision to stop shipping orders to the EU. Changes following Brexit have meant our customers are facing unexpected additional costs, which make the current system unworkable. We're sorry for any disappointed caused, it's a situation we continue to monitor and we hope a cost effective solution can be found in the near future.
Delivery to USA and Canada
Via carrier, signature required (5-6 working days) £20.00
Australia & New Zealand
Via carrier, signature required (5-17 working days) £35.00
If you are looking to ship elsewhere please get in touch via office@arkskincare.com and we will do our best to help.
Refunds and Returns Policy
For reasons of hygiene, we are not usually able to offer refunds or exchanges on any opened product.
E-vouchers are non refundable and cannot be exchanged for cash. Products purchased using e-vouchers are non refundable and non returnable.
If you wish to return your product purchased directly from ARK Skincare, please follow the procedure detailed here. If you have purchased an ARK Skincare product from a retailer or distributor please contact them or refer to their website for their returns policy.
Close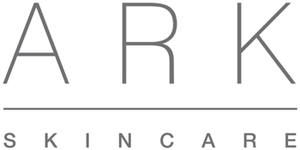 ARK Pro Enquiries
Discover ARK Skincare PRO, the range of ARK professional products for use by aestheticians, therapists & facialists.