% include 'bold-product' with product, hide_action: 'break' %}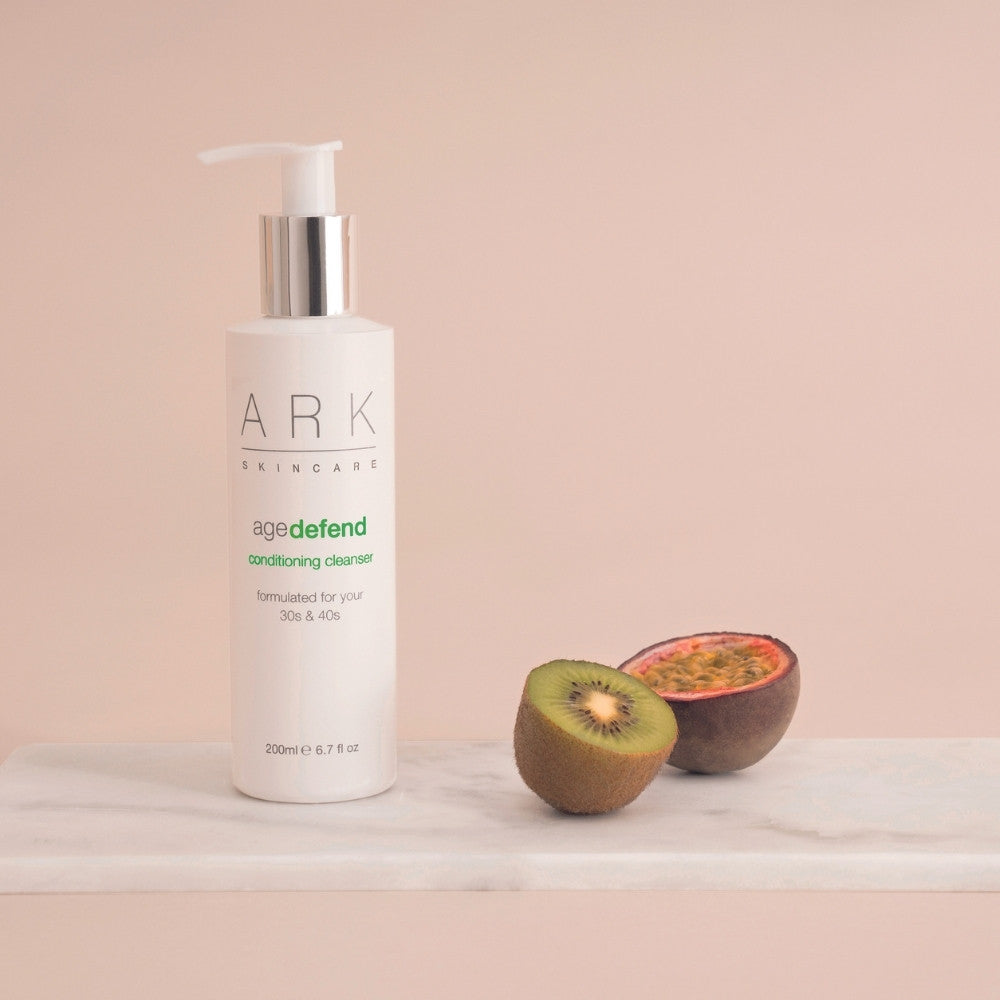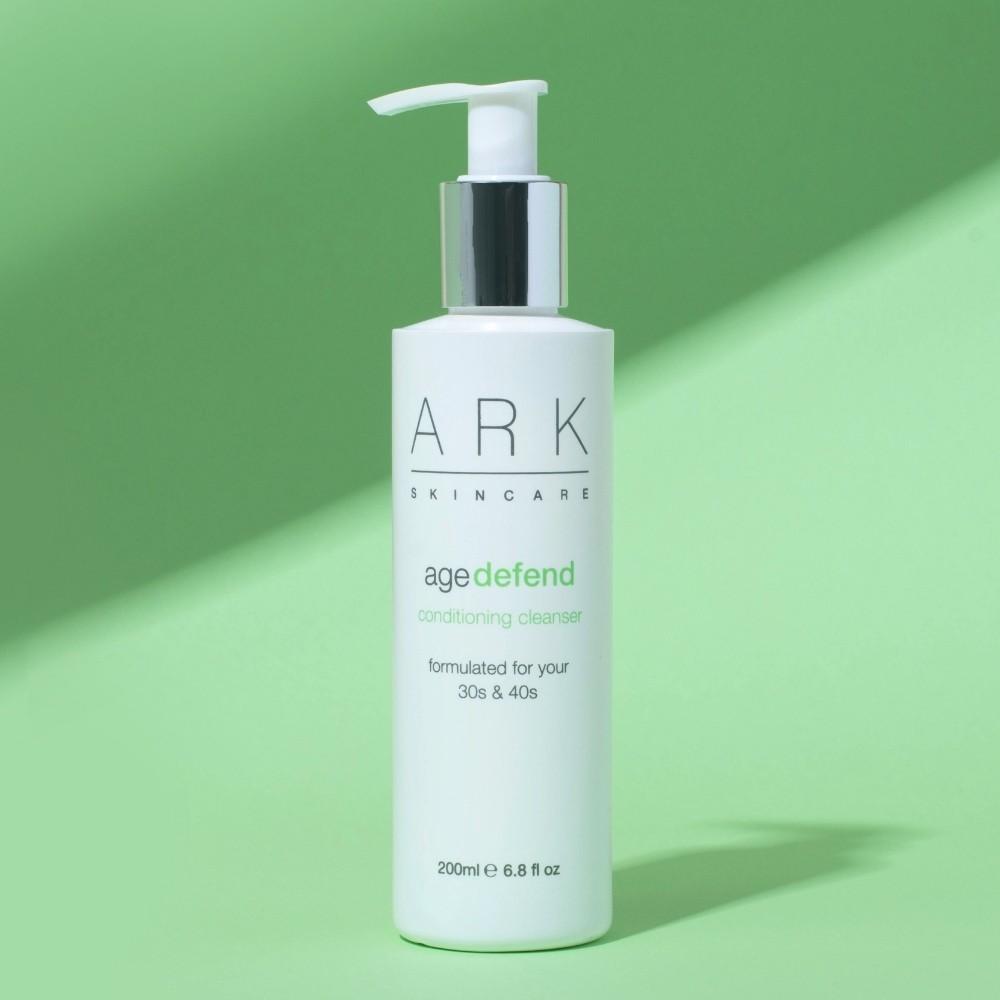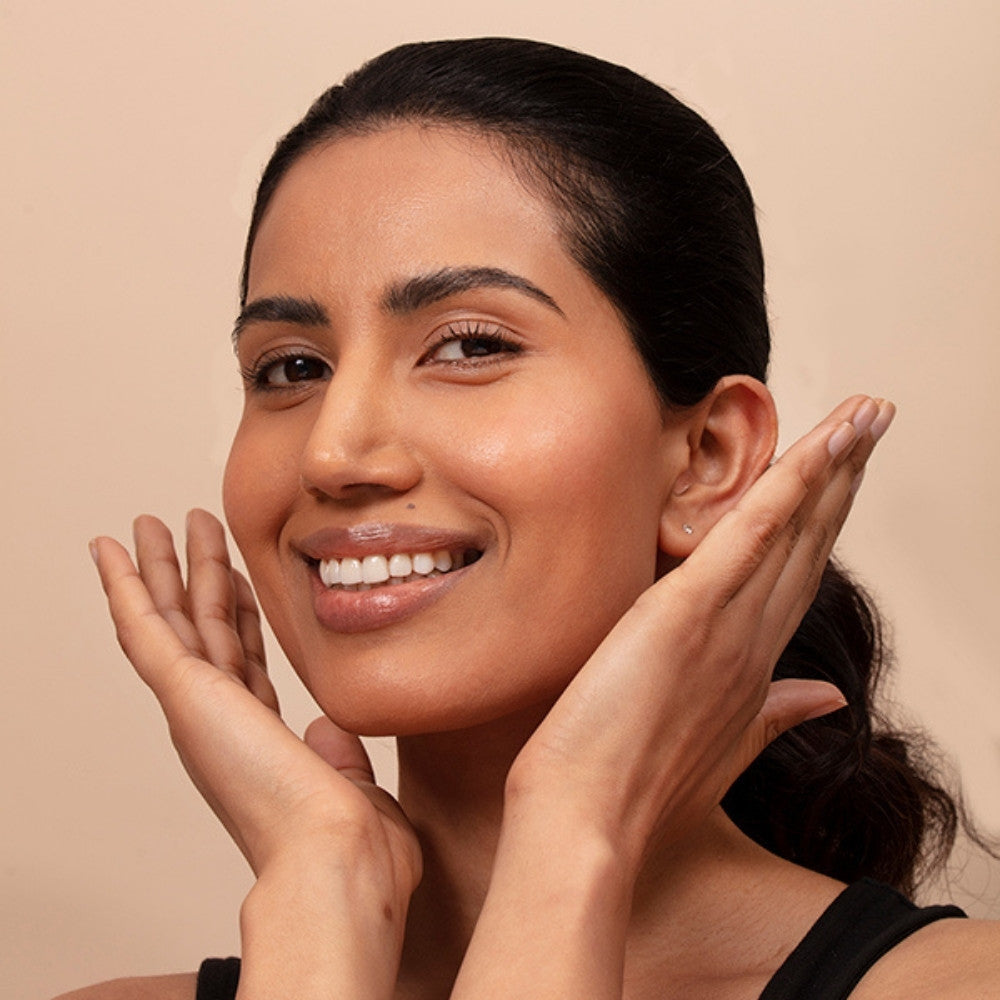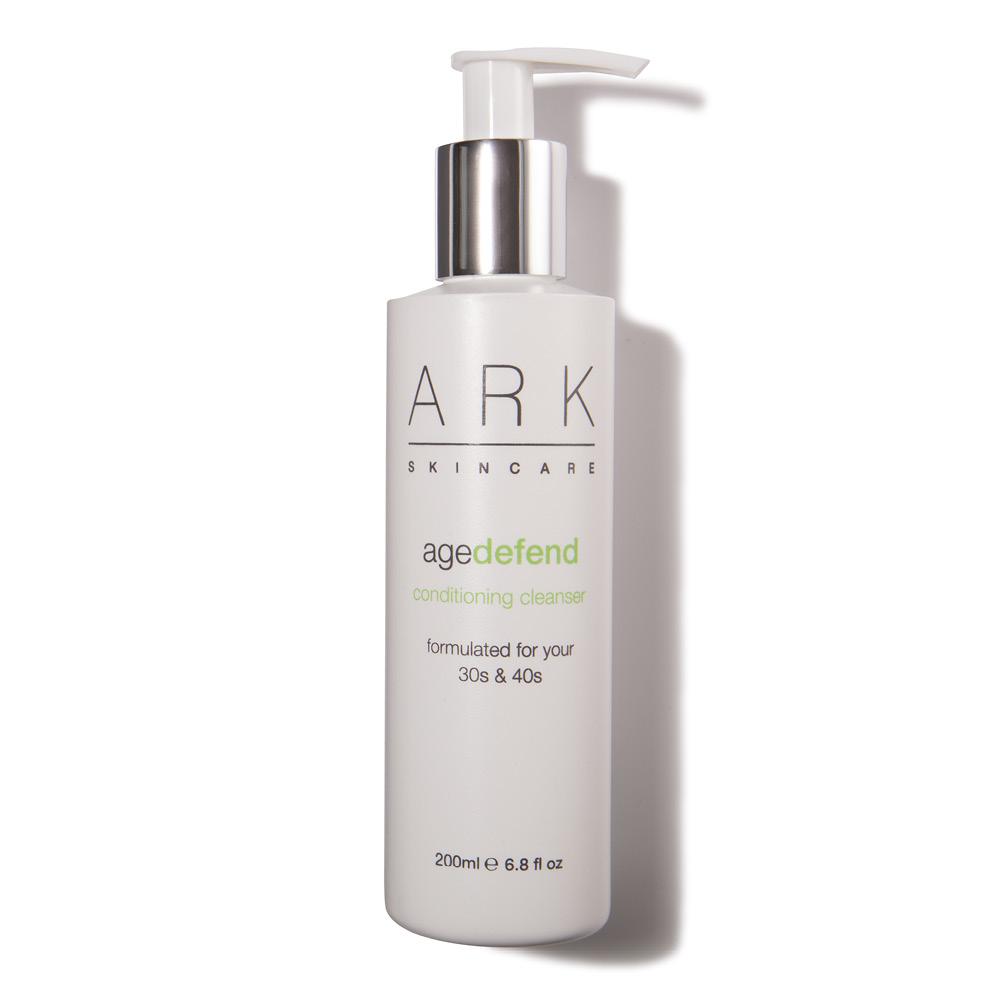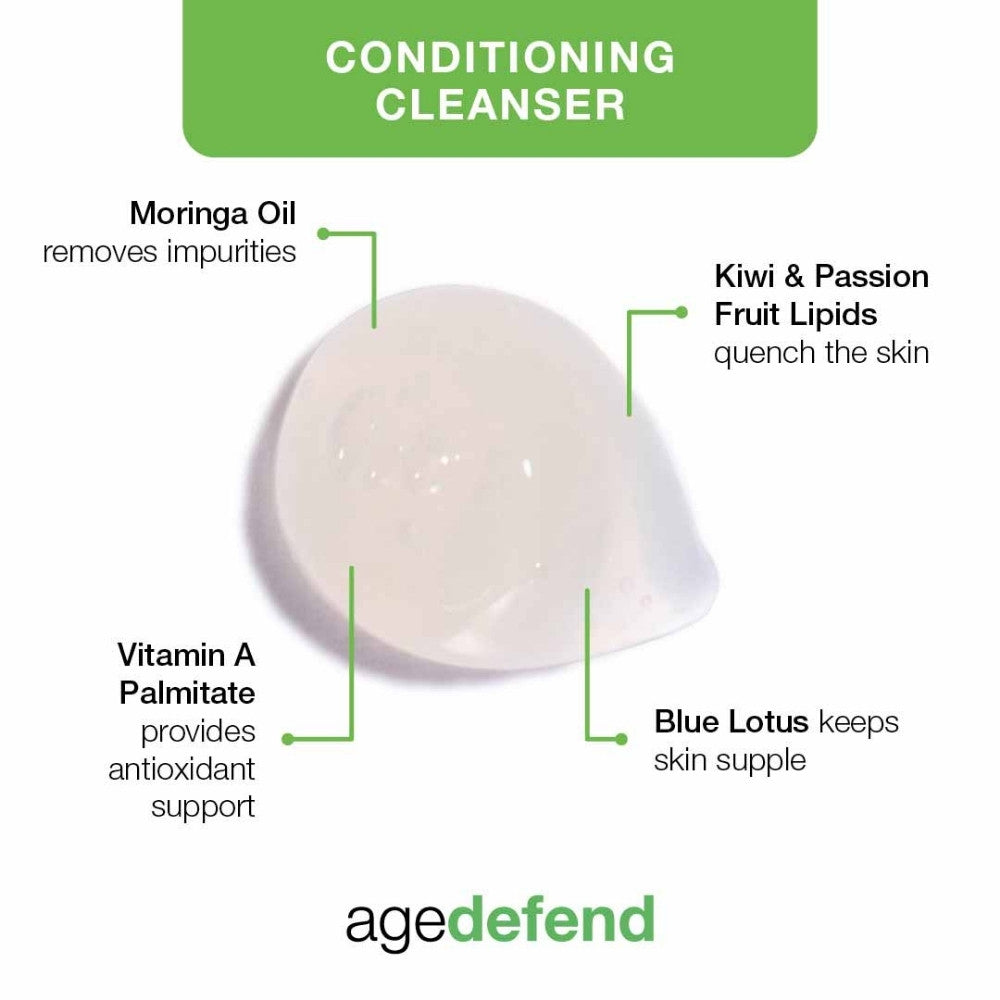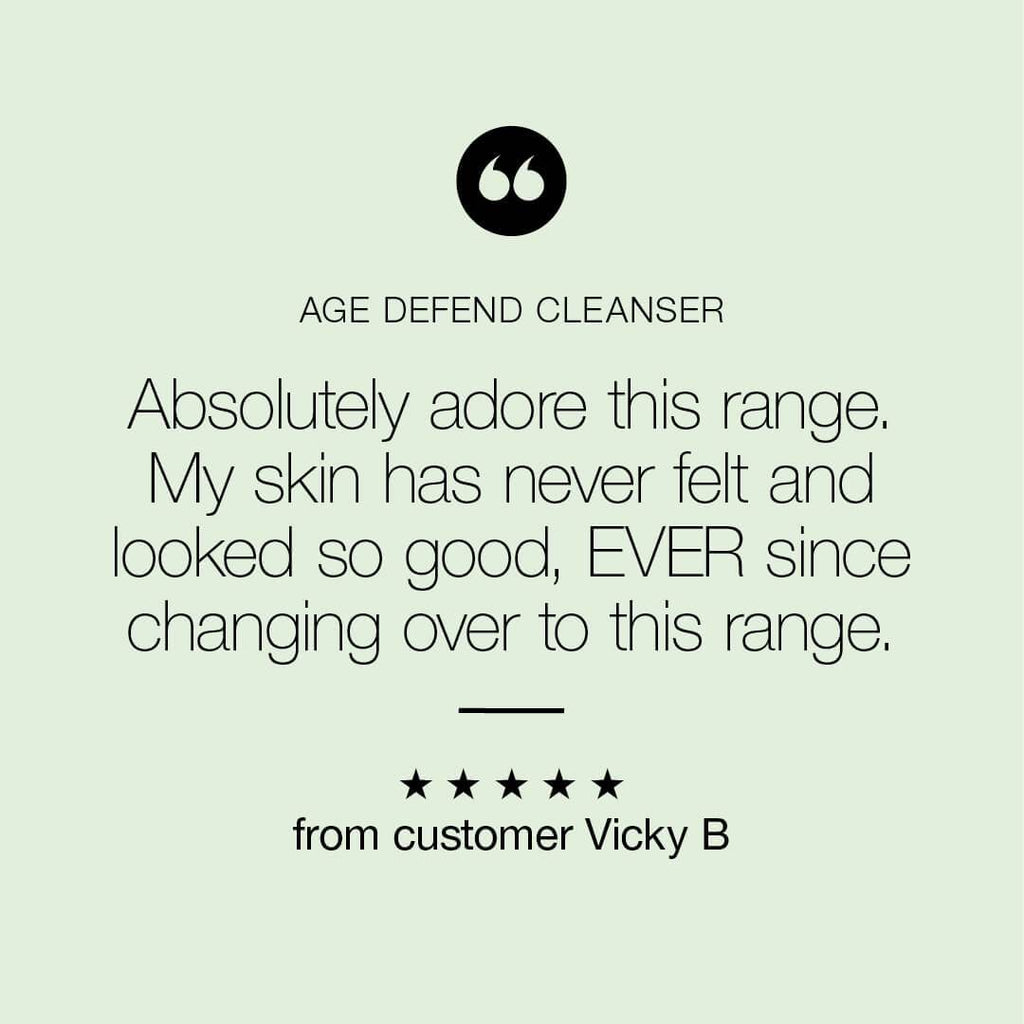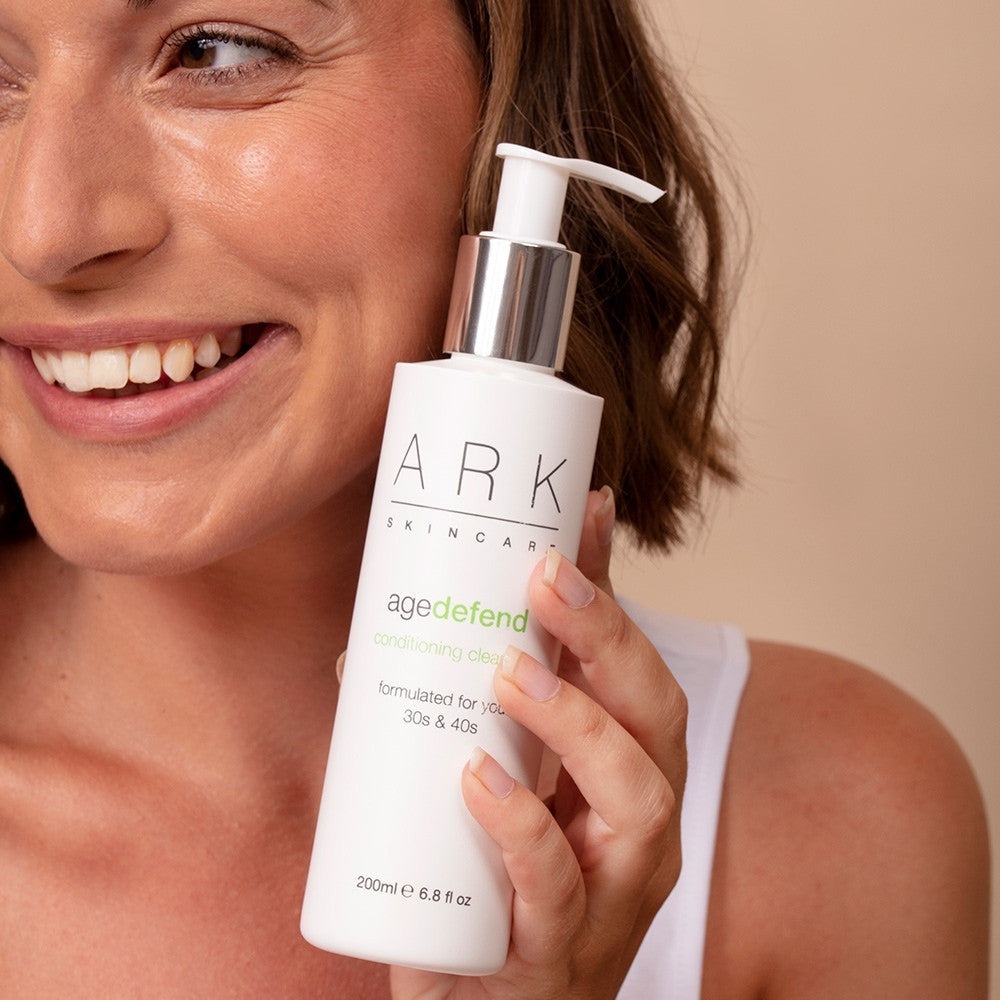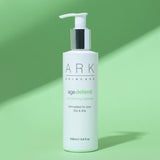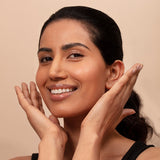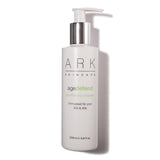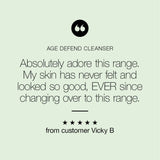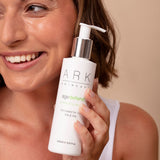 Age Defend Conditioning Cleanser 200ml
Gentle formula, perfect for sensitive skin
Share
The best cleanser for use in your 30s and 40s when your skin may be beginning to show signs of ageing and/or sensitivity. An ultra-nourishing cleanser to effectively remove daily grime and make up leaving skin clean, plump and supple. Vegan friendly.

Results: This moisturising cleanser boosts the skin's firmness and defends against moisture loss. An ideal cleanser for sensitive skin it instantly calms the appearance of redness whilst conditioning agents promote elasticity and keep skin supple.
How it works:
Moringa Oil removes impurities and gently exfoliates

Kiwi and Passion Fruit Lipids quench the skin, and Passion Fruit also helps reduce sensitivity and redness 

Vitamin A Palmitate provides antioxidant support and protects the skin

Omegas 6 & 9 protect against moisture loss

Blue Lotus keeps skin supple and acts as an anti inflammatory
Perfect for: Anyone in their 30s or 40s looking for a nourishing cleanser for daily use, a make up remover cleanser, or a cleanser for sensitive skin. Dermatologically tested and approved for those with sensitive skin. Non-comedogenic (non pore clogging). 100% vegan.
How to use: An essential step for both your morning and evening skincare routines. Apply to dampened face and neck, massage, and then remove with warm water and a clean muslin cloth. Follow with ARK Hydrating Beauty Mist and Age Defend Replenishing Moisturiser, to leave your face feeling supple and smooth.
Read our expert guide: Looking for more information on how to cleanser your skin properly? Read our cleansing masterclass for the best routine for you HERE.




Bio Active Ingredients: Kiwi and Passion Fruit Lipids, Blue Lotus, Vitamin A, Moringa Oil, Prickly Pear.
Full Ingredients List: Aqua (Water), Butylene Glycol, Olive Oil PEG-7 Esters, Laureth-4, Polysorbate 20, Moringa Oleifera Seed Oil, Carbomer, Phenoxyethanol, Benzyl Alcohol, Glycerin, Sodium Hydroxide, Tocopheryl Acetate, Actinidia Chinensis (Kiwi) Seed Oil, Disodium EDTA, Passiflora Edulis (Passionfruit) Seed Oil, Ethylhexylglycerin, Parfum (Fragrance), Opuntia Ficus-Indica Flower Extract, Limonene, Dehydroacetic Acid, Nymphaea Coerulea Flower Extract, Geraniol, Linalool, Retinyl Palmitate, Potassium Sorbate, Citral, Sorbic Acid, Tocopherol.
Formulated without: Parabens, Sulphates, SLS, Mineral Oil, S.D. Alcohol, Formaldehyde, Artificial Colours & Artificial Fragrances.
2022 - Editors Choice - Beauty Shortlist Awards
2020 - It hits that perfect spot where it removes every trace of dirt, grime, and light makeup without stripping skin bare and making it feel tight - Beautiful With Brains, Skincare Blogger
2020 - "I think all skin types would love this and it'll be the perfect summer cleanser." - Beautylymin, Beauty Blogger
2019 - "This is probably my favourite...as it's such a pleasure to use. The gel-type consistency that my skin always seems to favour, it also has the loveliest light and natural fragrance to it... I've been using this morning and night for a while now, and it always leaves my skin feeling clean but not stripped, and beautifully balanced." - 'Kate Louise Blogs' Beauty Blogger
2019 - "It leaves my skin feeling comfortable and clean without any dryness. Lines and wrinkles appear softer. It's just a really lovely cleanser!" - 'The naughty forty diaries' Beauty Blogger
2019 - "I love this cleanser and the scent. My skin feels clean once I've used it but there's no dryness or tightness which I usually associate with cleansers which need to be rinsed off. Adding this cleanser into my skincare routine means I know I'll be stepping out the shower with a clean face and only needing to tone and moisturise." - 'From Fiona' Beauty Blogger
2019 - "Not only does this cleanser remove impurities but it also cares for your skin. It includes Morninga oil, which contains Vitamin A and C. All of these prevent your skin from losing its moisture while making sure it's clean. What's more, Kiwi and Passion Fruit oils combined with Omega 3 fatty acids boost hydration levels and Blue Lotus extract improves skin elasticity and firmness." - 'Stormvoe' Beauty Blogger
WINNER Beauty Shortlist Awards 2018 - Best Cleanser Age 30+
Thumbs up from Beauty Blogger, Caroline Hirons
Are you local to Haslemere?
Save on postage and place a telephone order on 02037403303, we'll prepare your order and let you know when it's ready to pick up from our shop on Haslemere high street.
Store open for collections Monday to Thursday 9am to 5pm. Open by appointment on Friday and Saturday. Confirmation of arrival time advised to avoid disappointment.
UK Deliveries
UK - Standard Delivery (3-5 working days) FREE for orders of £60 or over.
UK - Standard Delivery (3-5 working days) £3.95 for orders under £60.
UK - Next Working Day (UK Mainland) - Available Monday to Thursday, orders must be placed before 12 midday. Please note the Next Day service is not available for weekend deliveries. Therefore orders placed on Thursday afternoon or Friday mornings will arrive on the following Monday. Orders placed on Friday afternoon Saturday or Sunday will be delivered on the following Tuesday. £7
Overseas deliveries
PLEASE NOTE: We can not take any responsibility for delayed orders to other countries outside the UK due to individual custom regulations. Please check with your country's customs office regarding the import of the products you wish to order. ARK Health & Beauty (Retail) Ltd deliveries are classed as 'Delivered At Place' (DAP), also called delivered duty unpaid (DDU). This means we the seller take responsibility for shipping the product, but we require the customer to pay any import costs, such as VAT, duties, and clearing fees. As the buyer, you are responsible for any import restrictions, prohibited import items, taxes, tariffs, fees and other duties. You are responsible for complying with international, national or local laws regulating the importation of products that you may purchase. If an order is refused delivery by customs due to unauthorized ingredients or contents, ARK Health & Beauty (Retail) Ltd is not responsible for any losses or costs incurred by you, the customer. You are solely responsible for any taxes, duties, levies, fees and/or any other expenses related to importing the products you order. If the shipment is abandoned or discarded by customs, you will not receive a refund or credit of any kind. By ordering you agree to these terms.
Delivery to Europe
Unfortunately we've made the decision to stop shipping orders to the EU. Changes following Brexit have meant our customers are facing unexpected additional costs, which make the current system unworkable. We're sorry for any disappointed caused, it's a situation we continue to monitor and we hope a cost effective solution can be found in the near future.
Delivery to USA and Canada
Via carrier, signature required (5-6 working days) £20.00
Australia & New Zealand
Via carrier, signature required (5-17 working days) £35.00
If you are looking to ship elsewhere please get in touch via office@arkskincare.com and we will do our best to help.
Refunds and Returns Policy
For reasons of hygiene, we are not usually able to offer refunds or exchanges on any opened product.
E-vouchers are non refundable and cannot be exchanged for cash. Products purchased using e-vouchers are non refundable and non returnable.
If you wish to return your product purchased directly from ARK Skincare, please follow the procedure detailed here. If you have purchased an ARK Skincare product from a retailer or distributor please contact them or refer to their website for their returns policy.
Close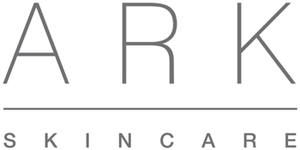 ARK Pro Enquiries
Discover ARK Skincare PRO, the range of ARK professional products for use by aestheticians, therapists & facialists.