Facial Oils - Your Questions Answered
We answer your questions on our latest product launch.

Keep reading for the why, when and how on Facial Oils.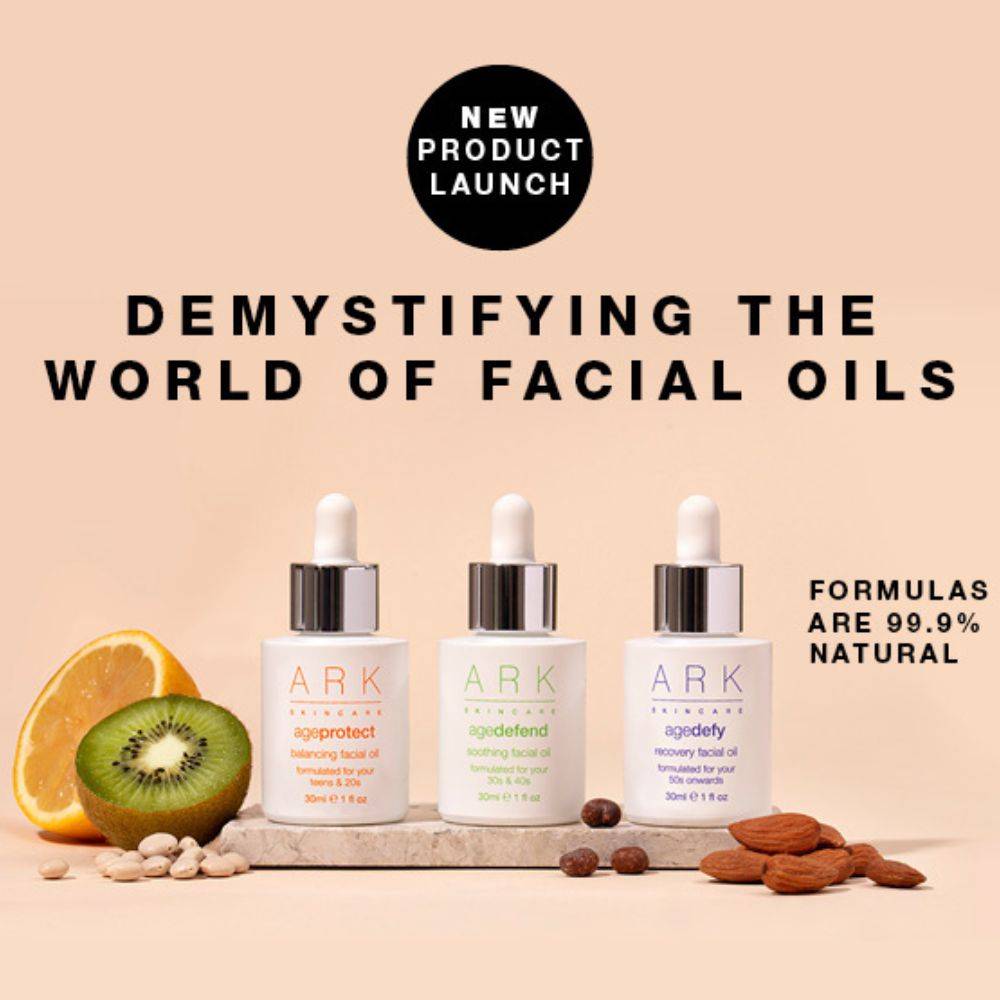 We are excited to announce the launch of three new Age Intelligent formulations in a brand new product category for ARK - Facial Oils.
These highly effective treatments are the result of several years careful formulating and are worth
the wait! The high efficacy, concentrated oils were formulated using bio-active plant-based
ingredients. Dermatologically tested for use on sensitive skins, they offer advanced skincare
solutions and are packed full of vitamins, lipids, and antioxidants. Sitting within the Age Intelligent
collections there is one for each of the targeted age ranges created by ARK Skincare. Age Protect
Balancing Facial Oil is for those in their teens and 20s; Age Defend Soothing Facial Oil for those in
their 30s and 40s; and Age Defy Recovery Facial Oil for those over 50.
So let's demystify the world of Facial Oils and introduce you to the new launches.
Facial Oils are top-tier skin nourishers. They are made from oil-soluble ingredients, specifically chosen to work with the physiology of facial skin (so non pore-clogging).
They are occlusive - meaning they trap humectants (skin hydrating ingredients) and emollients (skin conditioning ingredients) into your skin, so your skin stays hydrated and softer for longer.
Plus, they help strengthen and repair skin by cleverly mimicking the oils of the skin's own natural barrier.
2. Are Facial Oils only for facial massage?
No. Although Facial Oils are excellent for providing slip when paired with a Gua Sha Tool and used for facial massage, don't think of these products as requiring a long massage routine. They can be used every day, as part of your skincare routine and be applied simply and quickly using your fingers.
Use for facial massage once or twice a week, or when you have time for an extended routine.
3. Is a Facial Oil to be used instead of a Moisturiser?
No. For optimum results, use both in your routine. Moisturisers contain water as well as oil, helping hydrate the outer layers of skin.
Facial Oils are oil only, they work to nourish and balance the skin barrier. If mixed with, or used on top of a moisturiser they act as an excellent barrier, sealing the water in.
Essentially they are the perfect pair - each making the other more effective.
4. What's the difference between Facial Oils and Serums?
Facial Oils and Serums have very different functions in your skincare routine.
Serums are potent blends, developed to target specific skin concerns.
They have a low molecular weight so are ideally always applied to freshly cleansed skin, so the actives penetrate the skin and not be blocked by other layers of products.
Facial Oils are chief nourishers and can help keep ingredients locked into the skin.
If using both, apply your serum first.
5. How do I choose which ARK Skincare Facial Oils to use?
We've taken the guesswork out of choosing the right oil for you, as we've developed 3 Age Intelligent Facial Oils - just choose the one suited to your age.
Age Protect Balancing Facial Oil is for those in their teens and 20s; Age Defend Soothing Facial Oil for those in their 30s and 40s; and Age Defy Recovery Facial Oil for those over 50.
6. How do I apply a Facial Oil?
Facial Oils are very easy to use and can be layered or blended with any facial product.
Adopt a method to suit your own routine: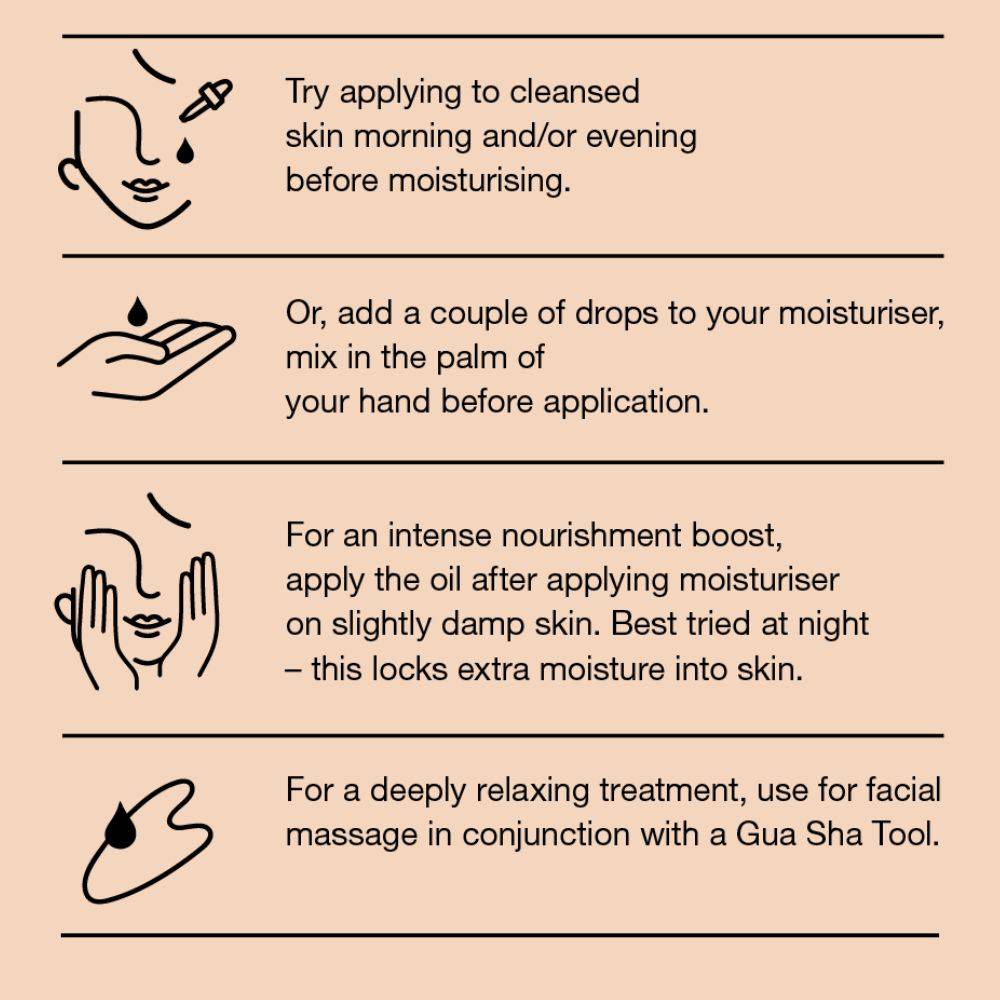 7. I have oily skin and sometimes break out in blemishes - should I avoid Facial Oils?
No. It may seem counterintuitive, but using oils to treat oily skin can be very effective. Facial Oils can have a powerful balancing effect, meaning they can help reduce the skin's natural over-production of oil.
8. Are these products suitable for sensitive skin?
Yes. All three have been dermatologically tested and certified as suitable for those with sensitive skin.
9. Are the formulations suitable for vegans?
Yes. As with all ARK Skincare products, these formulations are Vegan-Friendly and Cruelty-Free.
10. Are the formulations made from natural ingredients?
Yes. Each Facial Oil contains a unique blend of bio-active natural ingredients (see below for more details) each are 99.9% natural.
Introducing Our Age Intelligent Facial Oils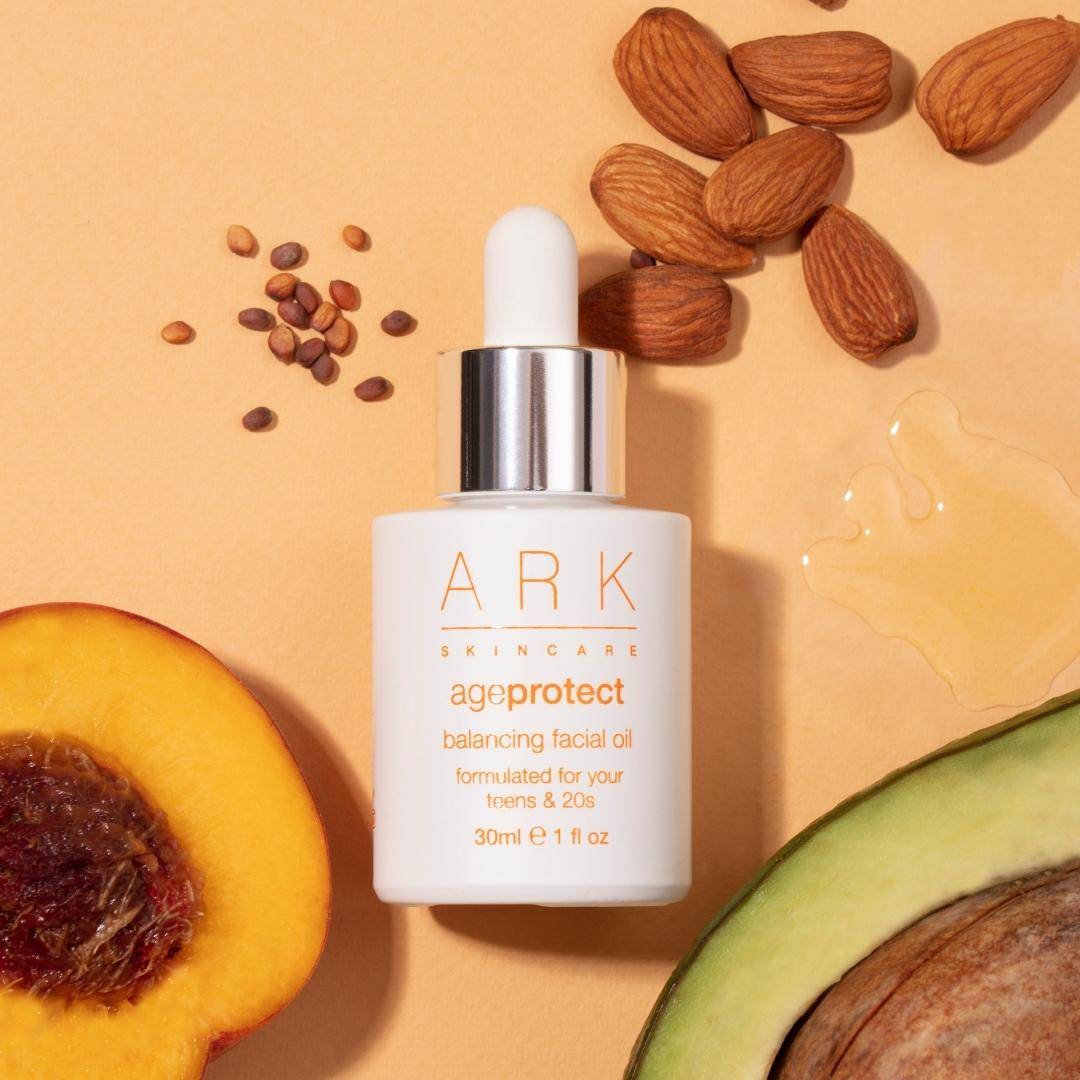 Formulated for your teens & 20s

Age Protect Balancing Facial Oil (30ml)
A delicate lightweight facial oil formulated to ensure the natural balance of skin is maintained. The easily absorbed, non-greasy formula is rich in vitamins and antioxidants with anti-inflammatory and anti-irritant properties, including TEGO® Turmerone, which helps shield skin from oxidative stress.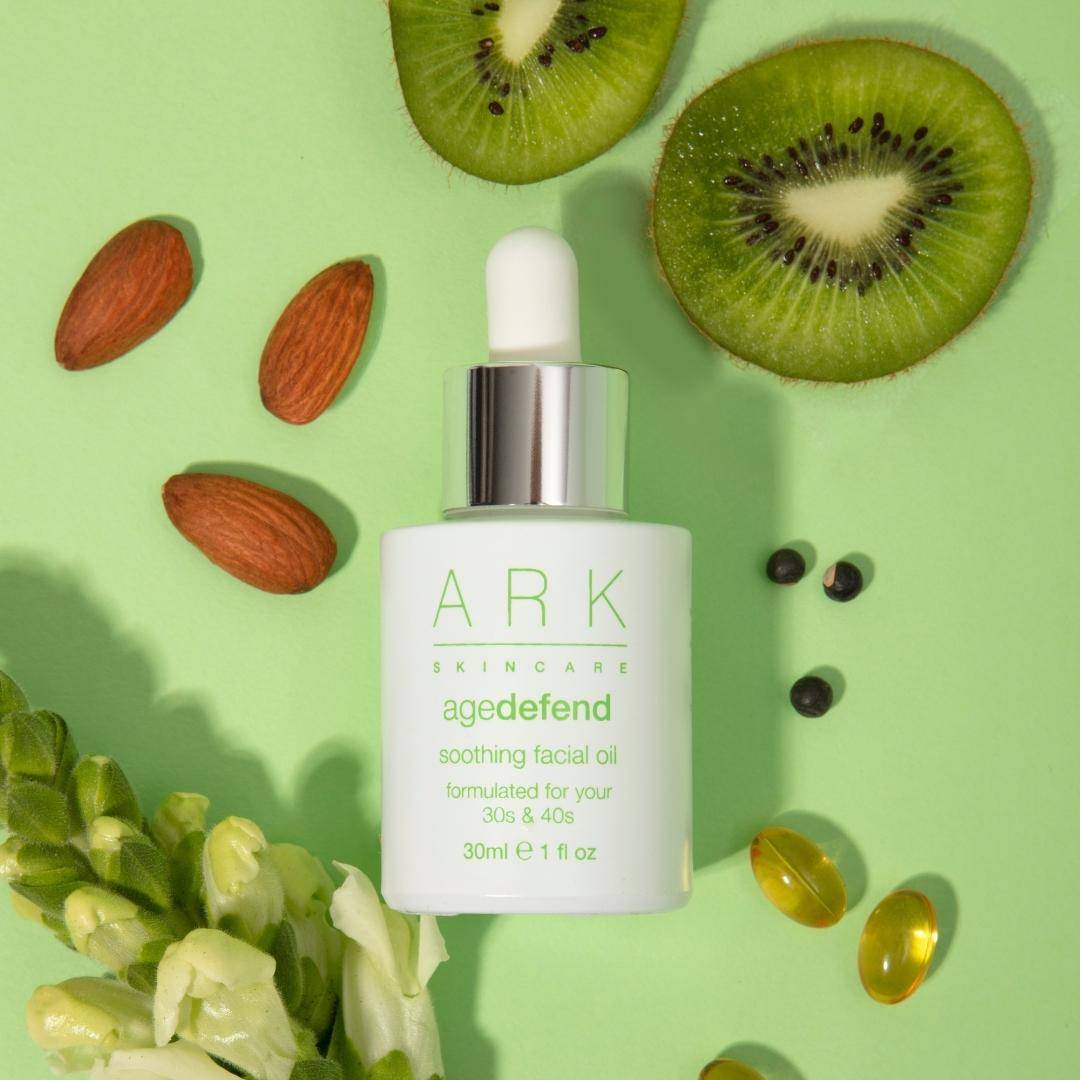 Formulated for your 30s & 40s

Age Defend Soothing Facial Oil (30ml)
A silky facial oil with a delicate slip to hydrate, de-stress and calm skin sensitivity. This formula contains Collageneer®, an innovative active ingredient that stimulates natural collagen production, and defends against the visible signs of ageing.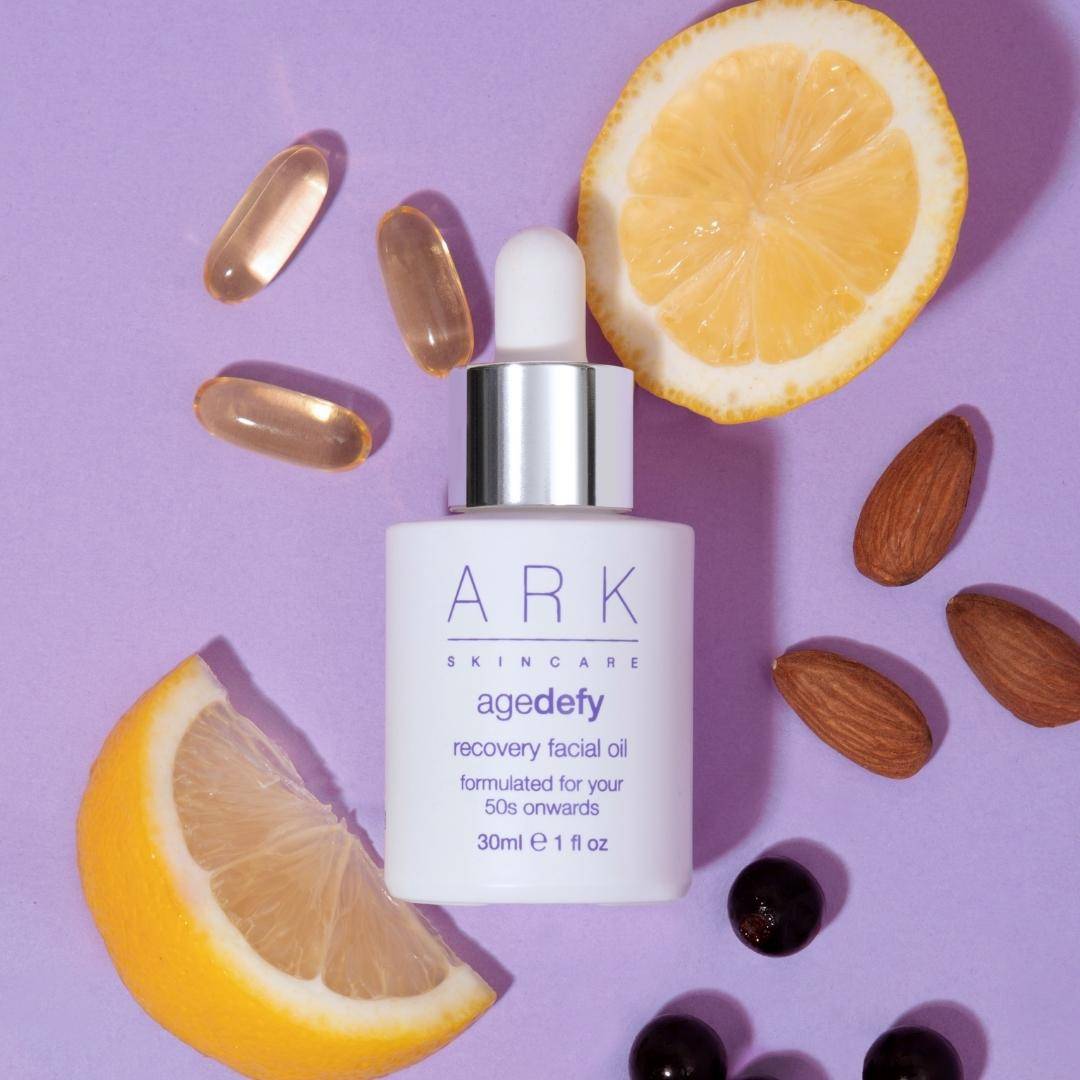 Formulated for your 50s onwards

Age Defy Recovery Facial Oil Facial Oil (30ml)
A rich super-oil that delivers an intense boost of nourishment for dry or damaged skin. With continued use the key ingredients - including fatty acid rich Inca Inchi Oil - help to restore the skin's protective barrier and lock in hydration, combatting fine lines and dryness.