Your Night-Time Skincare Routine
The best products and routine for rejuvenating your skin overnight
Did you know that the metabolic activity of skin cells is at its peak as we sleep, meaning that adopting a pre-bedtime skincare routine is more likely to achieve its desired effect? As we slumber, our body, mind and skin are able to repair themselves. Finding the perfect night-time skincare products unlocks the full potential of that overnight rejuvenation.
This guide offers a simple and effective four-step night-time routine for regenerating and protecting your skin, as well as recommendations for occasional pre-slumber pamper.  
ARK Night Treatment Creams:
Formulated for your 30s & 40s
Age Defend Regenerating Night Treatment
Combat signs of skin stress and fatigue
The best night cream for your 30s and 40s. This night treatment aids the natural repair process as you sleep and combats the signs of everyday stress. The vegan formulation contains bioactive ingredients to detoxify and repair, to boost hydration and elasticity, and to soothe and reduce sensitivity. The Age Defend Night Treatment can also be used around the eyes to reduce the signs of fatigue such as dark circles. 98% natural formula.
Rejuvenate tired, damaged skin
This firming night cream has been specially formulated for your 50s onwards, it works to rejuvenate tired and damaged skin whilst you sleep. A powerful anti-oxidant and free radical scavenger acts to stimulate the production of collagen and increase skin firmness and an energizing cocktail of vitamins and minerals work to detoxify and vitalize the appearance of skin. The perfect repairing night cream for mature skin. The Age Defy Night Treatment can also be used around the eyes to reduce the signs of fatigue such as dark circles. 98% natural formula.
Formulated for your 50s & beyond
Age Defy Repairing Night Treatment

Are you wondering why we don't offer an Age Protect Night Treatment for teens & 20s skin? Simple - young skin needs protecting but not over stimulating. More mature skins need higher levels of nourishment and help to keep skin supple and firm. Our Age Intelligent approach and age specific products ensure you address the needs of your skin according to the age you are.
---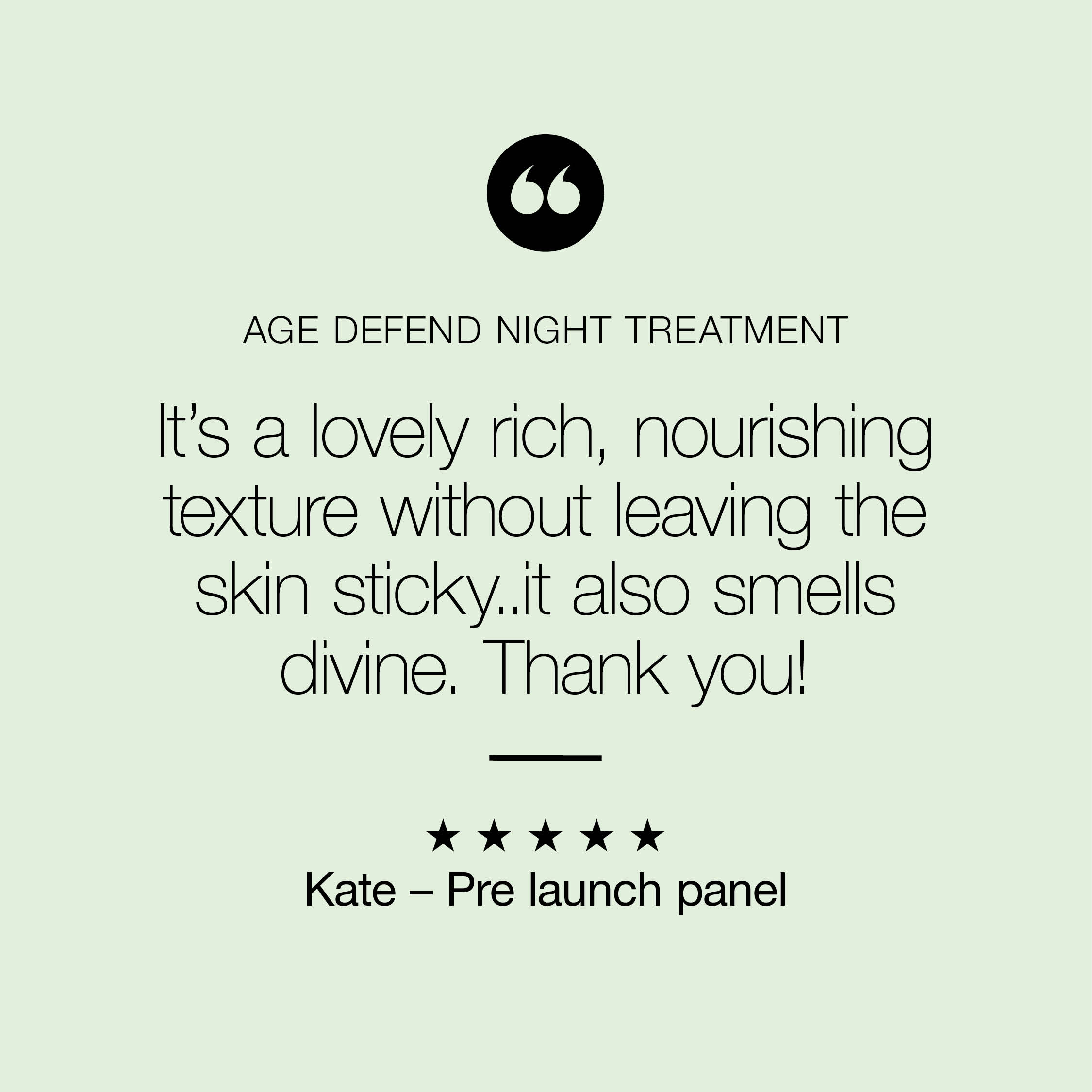 What's the difference between a day and a night cream?
You may think you don't necessarily need both a day and a night cream within your skincare repertoire, but investing in your daily routine will ensure you achieve the results you want.

The key purpose of a day cream is hydration and protection against the elements we face daily while going about our lives – which include pollution, air conditioning, central heating, blue light from devices and damaging UV rays (that are present even on British cloudy days!). A great moisturiser will provide the support our skin needs without weighing it down, acting as a 'bookend' to a great morning skincare routine. They're also lighter in texture so are more suitable for use under makeup, and finding a great one can ensure a primed base that ensures you stay radiant all day long.
Night creams, however, tend to be much richer in texture and focused on hydration and replenishment – delivering skin a boost as you sleep alongside targeted ingredients to help counteract the potential damage incurred during waking hours. ARK Skincare's award winning night treatments have been specially formulated to work in partnership with their daytime counterparts, so to get the best results they should be used alongside a great morning routine.
---
Your 4 step night-time skincare routine
Remove the day's grime with ARK Skincare Pre Cleanse & Make-Up Remover. The multi-fruit lipid blend dissolves every last trace of excess sebum and make-up (even waterproof mascara) while nourishing and soothing skin with a blend of natural ingredients. Massage a small amount all over the skin, taking the time to work it in and lift away stubborn makeup, before washing away with warm water and a flannel.
Follow-up your make-up remover with a non-foaming pump of ARK Skincare Age Protect, Defend or Defy Cleanser to remove any last traces of grime, makeup or SPF while helping to nourish and protect even the most sensitive of skin. It's important to double cleanse if you're wearing any kind of makeup or SPF so there's no kind of residue left on the surface of skin.
Next up, it's time for a more targeted treatment, helping to remedy any specific skin concerns you may have. Our Serums offer solutions for fine lines, pigmentation, blemishes, lack of radiance, sensitivity, redness, tightness and dry skin. Incorporating into your nighttime routine is ideal for giving your problem areas some TLC.
Massage a pump of ARK Skincare Age Defend or Defy Night Treatment between your hands and apply across your forehead, cheeks and neck in gentle lifting motions. Suitable for even taking up to the delicate under-eye area, this will help to deliver what your skin needs as you sleep.
Shop the night-time routine:
Treat yourself to an evening pamper...
Once or twice a week, it's nice (and beneficial) to add in a little extra TLC to your night-time skincare routine...
For a weekly pick me up, apply a generous amount of ARK Skincare Hydration Injection Masque – an intensive treatment that helps to quench skin, plump wrinkles and restore vibrancy. Ideal for skin which looks tired, stressed or lacking in radiance, this can also be left on overnight for even more skin boosting benefits.
Give your lips some love with our overnight Intensive Lip Treatment Cream, which helps to hydrate, plump and protect the entire lip area, while clinically proven plumping Peptides help to increase lip volume appearance and hydration.
---
The importance of Beauty Sleep
"If we regularly get the recommended 7-9 hours of sleep a night we'll undoubtedly benefit from a multitude of visible improvements in our skin. With more collagen skin appears fuller, more youthful and fine lines appear reduced, while adequate blood flow and drainage will ensure the under-eye area is less puffy and free from dark circles. Investing in your bedtime routine will undoubtedly leave your complexion looking radiant, feeling smoother and becoming more supple over time."