The Age Defy Guide:
Skincare tips for your 50s & onwards
In this guide we'll cover top tips, key ingredients, and recommend an ideal skincare routine for mature skin.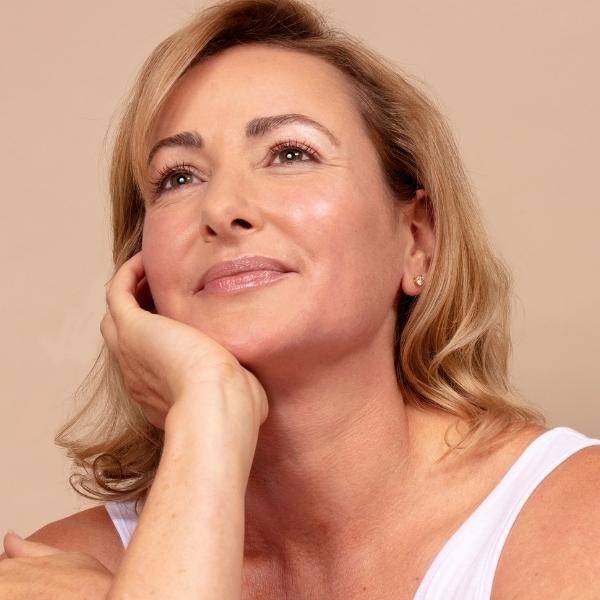 In our 50s, and onwards, levels of many hormones fall precipitously, which causes a rapid depletion of the body's structural components. Skin may show established signs of ageing, with increased loss of elasticity, uneven pigmentation, & dryness. A firmer, rested, radiant complexion is still possible, skin just needs care and attention and to be treated with the correct combination of ingredients. Read on to find out more.
What Happens to Our Skin in Our 50s Onwards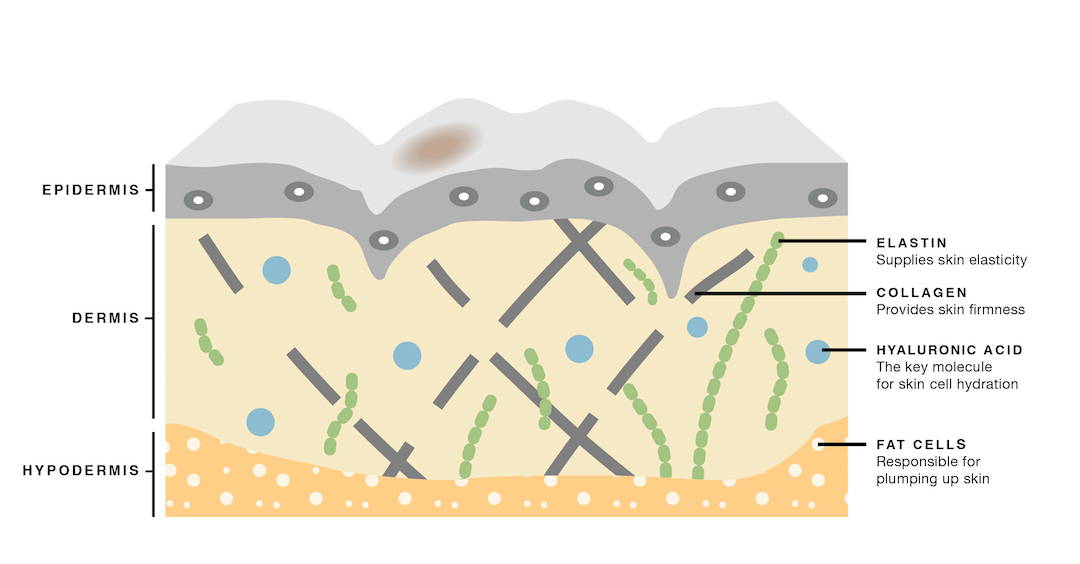 From our 50s onward the decline in structural cell production accelerates, skin becomes more fragile, and less able to repair itself.

Atrophy of the dermis leads to deeper lines.

The natural skin barrier also degrades, leading to poor moisture retention and excessive dryness.

Depletion of fat in the hypodermis layer causes skin to appear less plump.

Sun spots (areas of pigmentation) also become more prominent.
Our Top Skincare Tips for Your 50s Onwards

TIP #1 - Hydrate hydrate hydrate
Unfortunately we lose the ability to retain water in our skin as we age. The stratum corneum loses some of its protective function and skin can feel dry. In addition, our ability to protect against the sun is reduced and the elastic fibre of the structure of the skin is compromised. The result is we must use a moisturiser every day and perhaps a treatment serum too.
TIP #2 - Hydrate from within too
Using topical moisturisers and serums is important with age, but we should hydrate from within too. Drinking water throughout the day helps keep your whole body including your skin hydrated. But it's not just water which is important – a diet rich in antioxidants, vitamins, and lipids helps moisturise skin too.
TIP #3 - Nourish the eye area
Eyes can be one of the main areas of concern. Use a good quality eye cream to soften the appearance of wrinkles and reduce dark circles. Multi-functional eye creams will also diffuse light to soften the appearance of imperfections as well as treating concerns.
The skin repairs and rejuvenates as we sleep, so make sure you get enough rest. Collagen is made as we slumber so "beauty sleep" really is a thing!
TIP #5 - Lips need a plump?
Lips are listed as a main area of concern by those over 50. Even those with fuller lips begin to experience a loss of volume and plumpness as they get older. Use a lip treatment over night to ensure your fuller lip is restored.
TIP #6 - Consider a supplement
You may find a supplement can help with your skin. It is said that a large proportion of the UK population is deficient in Vitamin D. If you are protecting against sun damage whilst outside and not eating enough Vitamin D rich foods, this could be you. Omega 3 fatty acids are also very beneficial to dry skin so if your diet could be lacking Omegas consider a supplement to help.
TIP #7 - Massage your jaw line
It has been found that some facial exercises can help sculpt and shape your jawline to make it look taught and toned. Facial massage tools such as Gua Sha can have a big impact and reduce the appearance of jowls.
TIP #8 - Care for your hands
Have a hand cream to hand – have a tube by your bed so it is the last thing you do at night. Have a tube in your handbag for use throughout the day, and one by the sink in the kitchen. Regular nourishment of those hard-working hands will pay dividends.
TIP #9 - Remember to treat your décolleté area
This area can be prone to wrinkles especially if you sleep on your side. Smooth your night treatment cream down your whole neck and chest area.
TIP #10 - Treat your whole body even your feet!
Dryness occurs over the whole body so make sure you have time to treat your whole self. Even your feet! Once the skin's barrier becomes dry and compromised it is hard to repair it. Keep your whole body moisturised and ensure your skin's protective barrier remains intact.
Celebrate your age! Focus on the positives of ageing rather than the negatives. Studies have shown that positivity will help you look and feel healthy, strong, happy and glowing for longer. Your hair colour may have changed, and your skin tone altered. Have a look at your colours and review your make up and clothes to reflect the changes, and embrace it!

Ingredients to Use in Your 50s Onwards
Look for products formulated with powerhouse ingredients known to brighten skin, even skin tone, deeply hydrate, and renforce the skin's elastic structure to help skin appear firmer and more flexible.

Ingredients to look out for:
Super fruits, such as Goji Berries - Gojis are known to reduce oxidative stress in the skin by fighting harmful free radicals and by working to restore skin health. They help deminish signs of ageing in multiple ways - by boosting collagen and elastin production in the skin, which makes it firmer and more youthful-looking; and by protecting against UV photodamage resulting in an even and glowing tone to the skin.
Omega Rich Oils, such as Blackcurrent and Starflower - they can serve to regulate the skin's oil production, improve hydration, and minimize signs of aging. Omega-3s can also help soften rough, dry skin, and have a soothing effect on irritation and dermatitis.
Isoflavones (found in Clover Extract) - are phytohormones and rejuvenate skin showing signs of hormonal depletion.
Matrixyl - is an Anti Ageing Peptide, which helps boost collagen, hyaluronic acid, and elastin production in the skin. All of which naturally decline with age, so need a boost.
Vitamin C – look for products with stabilised Vitamin C, in its pure form it is relatively unstable and prone to oxidising. ARK products use an effective form of vitamin C stabilised in glucose. It helps promote the synthesis of collagen, scavenges free radicals, and reduces inflammation.
Hyaluronic Acid - has the ability to hold one thousand times its own weight in water. Look for Hyaluronic Acid which is organic and low weight, meaning it can penetrate to the deeper layers of skin to plump fine lines, boost moisture and improve collagen synthesis.
A Skincare Routine for Your 50s Onwards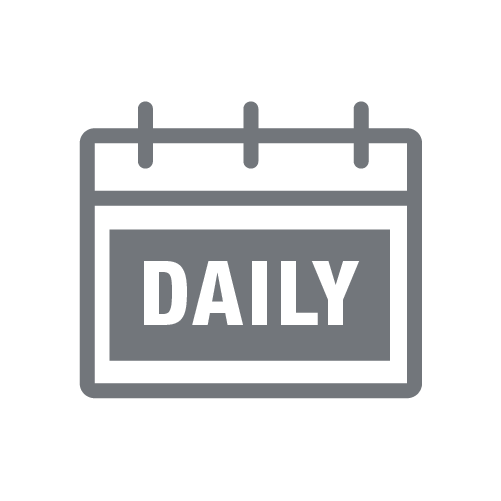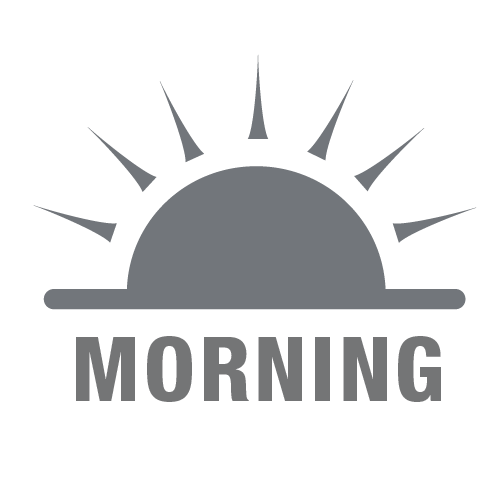 Every morning:
Cleanse skin, apply treatment serum, plus eye cream, then moisturiser. And don't forget your last step - SPF!
Use a hand cream throughout the day. Carry a beauty mist for added hydration when you need it (plus its great for hot flushes).
Every evening:
Double cleanse, add a serum for any concerns, use night cream and add a lip treatment to prevent lines around the mouth.
Use a hand cream before going to sleep, apply to nails and nail beds as well as the skin of the hands.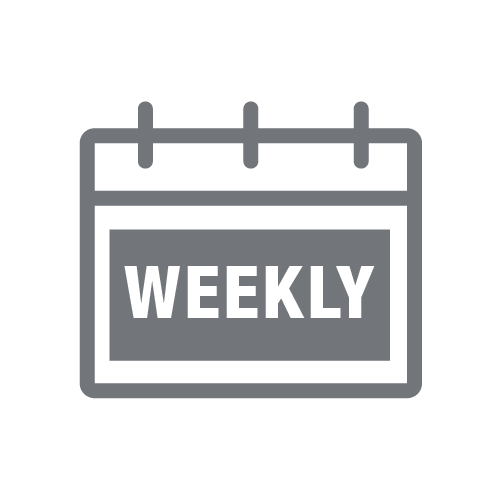 Weekly or twice weekly:
Exfoliate - an essential step, especially post 50, as we need to gently slough dead skin, to aid absorption of active ingredients.
Quench skin with a masque treatment - use whenever you have a spare 15 mins, or leave on overnight for an intensive treatment.
Make time for a facial massage - learn more about the Gua Sha technique HERE. With regular practice the jaw line becomes more defined, fine lines are reduced, skin is lifted and de-puffed.
Explore the Age Defy Skincare Range

Complexion-firming skincare formulated for your 50s onwards.
Products in our Age Defy range are formulated to combat the signs of hormone loss that we see in our 50s and onwards - such as skin dullness, dryness, uneven tone and loss of elasticity.
This collection contains intensive collagen-boosting and skin-brightening ingredients which repair & deeply hydrate mature skin.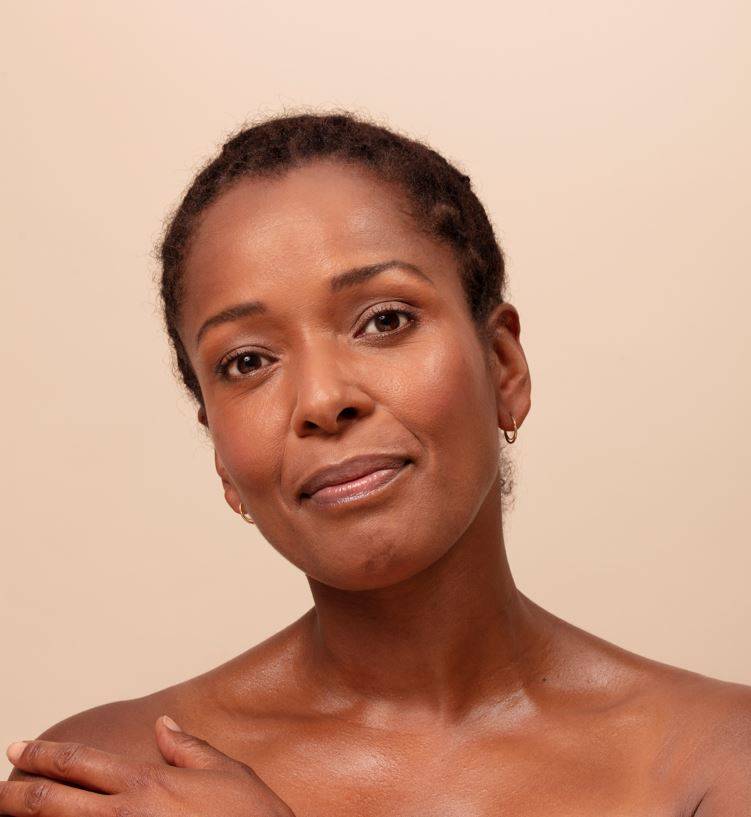 Age Defy Brightening Cleanser

Formulated for your 50s onwards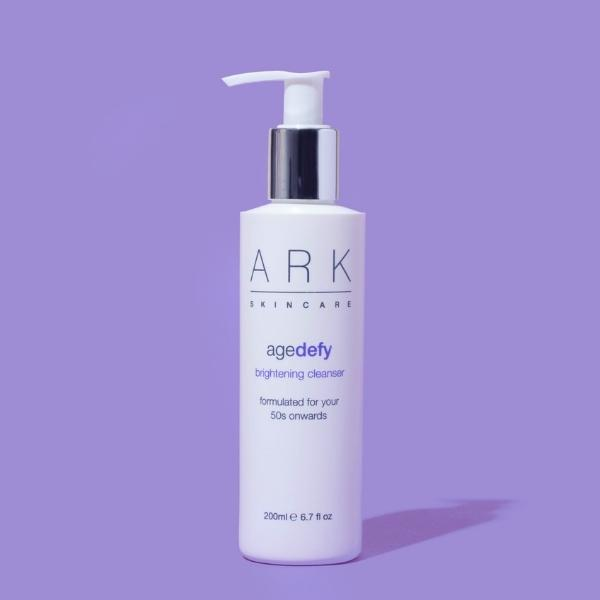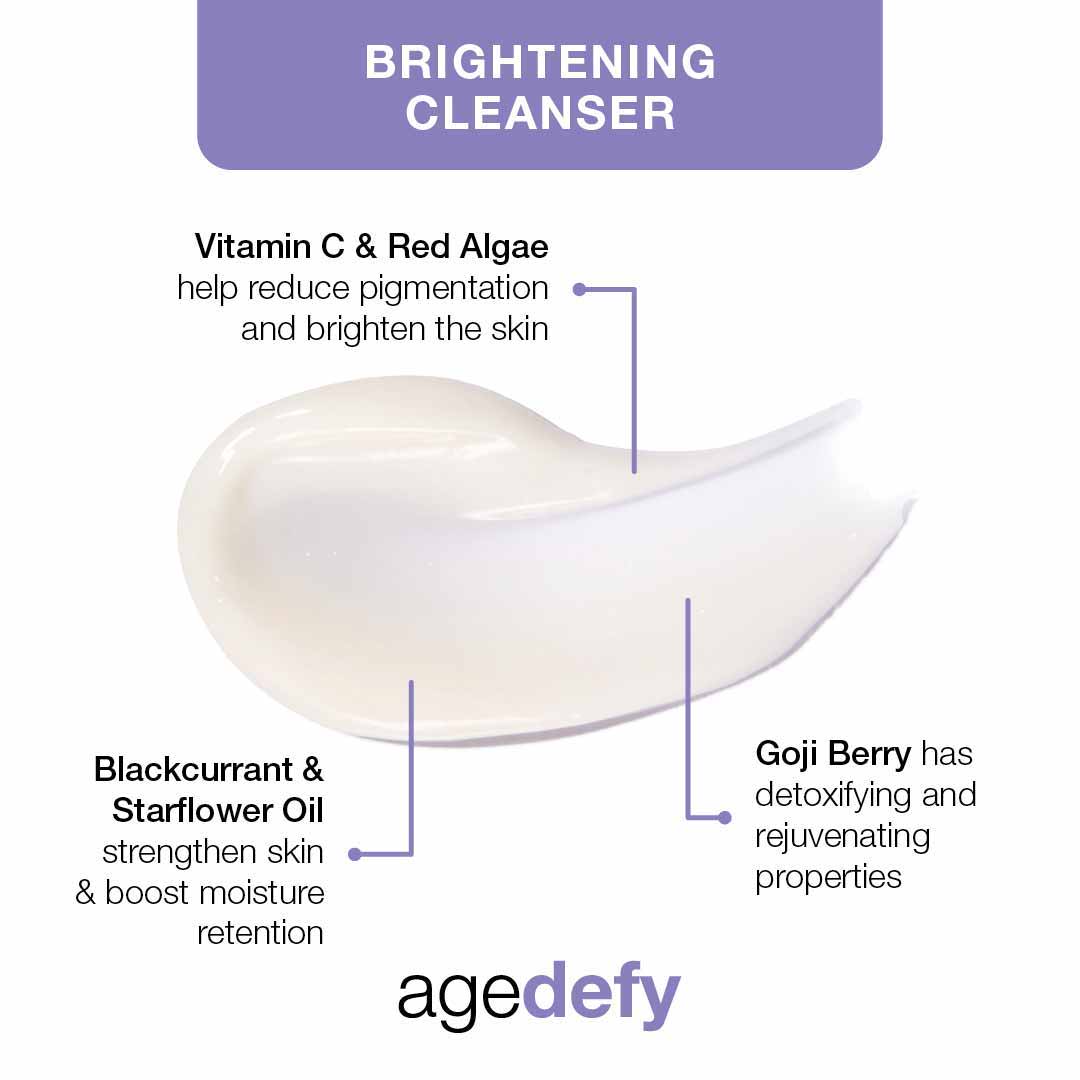 Reduces pigmentation, softens lines
This rich cleansing cream is a skin brightening cleanser which gently removes debris and impurities from the skin. Ideal for mature skin. READ MORE HERE.
Age Defy Nourishing Moisturiser
Formulated for your 50s onwards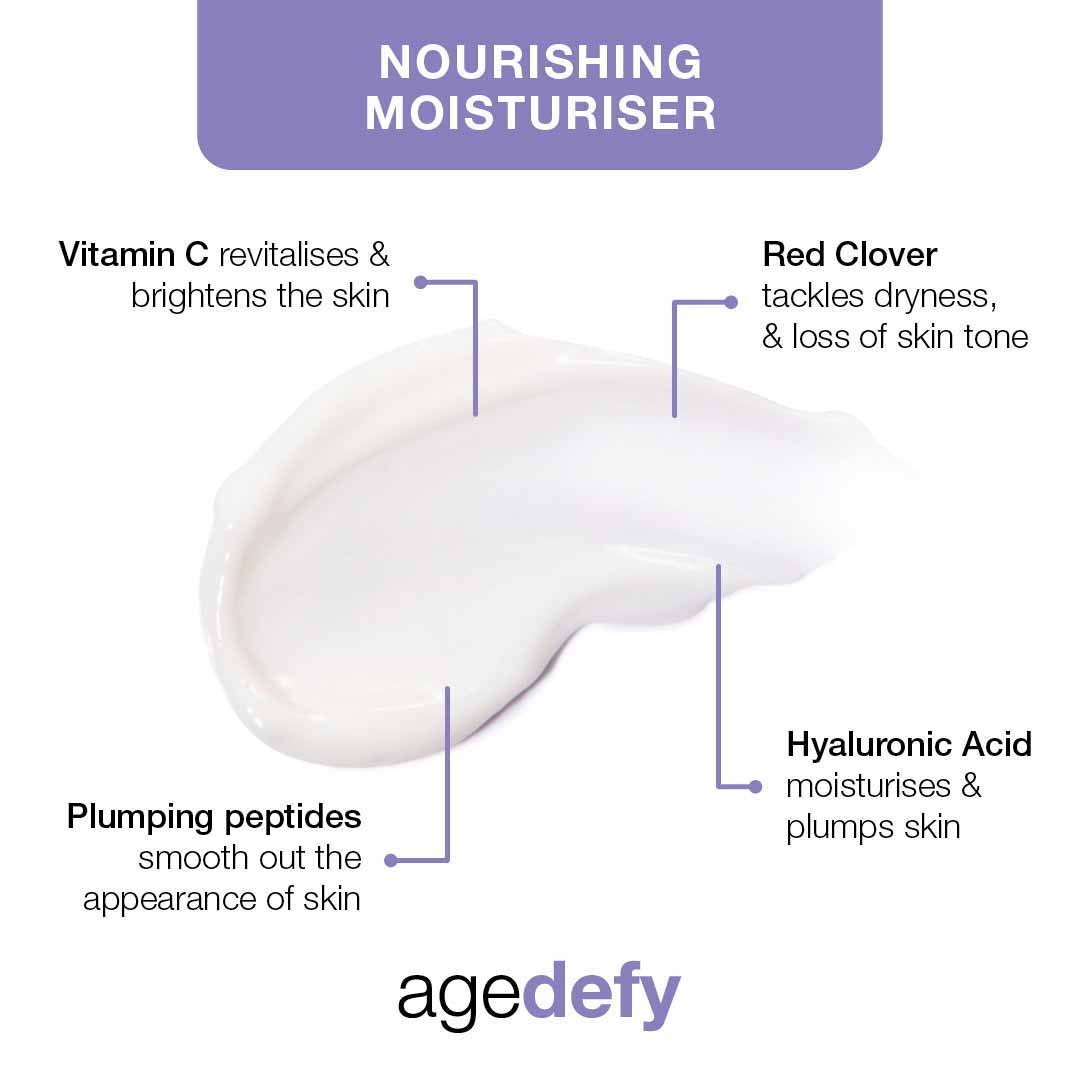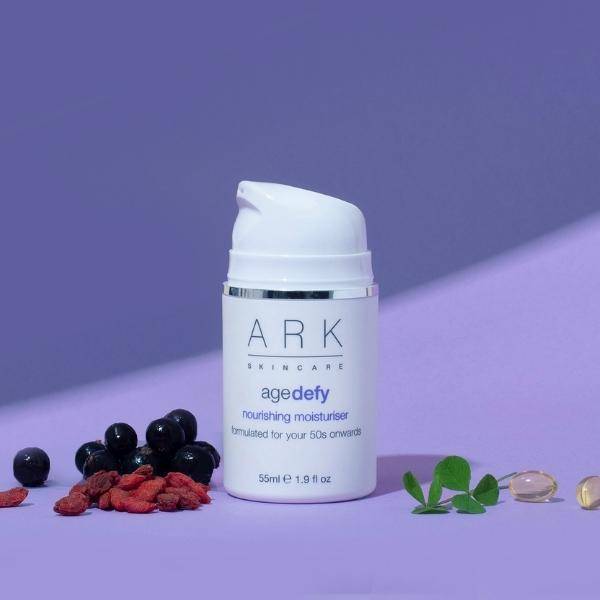 Hydrating peptide moisturiser formulated for mature skin
Deeply nourishing moisturiser for the over 50s. With powerful peptides to counteract dullness, dryness, and loss of elasticity. Perfect for mature skin. READ MORE HERE.
Age Defy Repairing Night Treatment
Formulated for your 50s onwards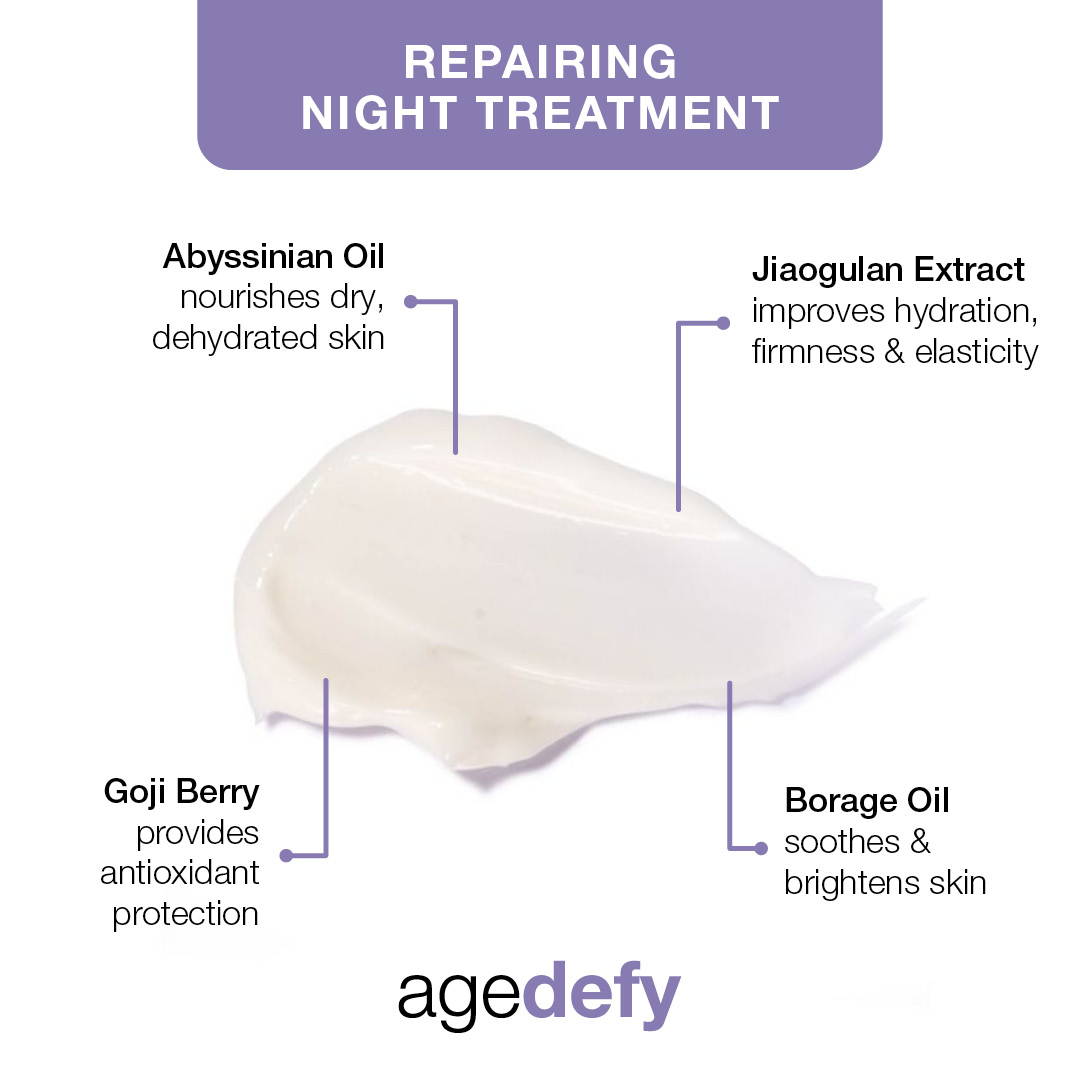 Rejuvenates tired, damaged skin
This firming night cream has been specially formulated for your 50s onwards, it works to rejuvenate tired and damaged skin whilst you sleep. READ MORE HERE.
Now we've talked through top tips, key ingredients, and an ideal routine, let's establish your bespoke product collection in three easy steps...
STEP 1: First select your Cleanser, Moisturiser and Night Cream. We've taken out the guess work and developed formulas with the perfect balance of antioxidants, lipids and vitamins, to meet the needs of 50s plus skin.
STEP 2: Select one or more products from the Skin Perfector range based on your skin concerns. We have solutions for everything from blemishes and dullness, to redness, fine lines and dryness. We've suggested a selection below, if these don't fit your needs you can view the whole Skin Perfectors range HERE.